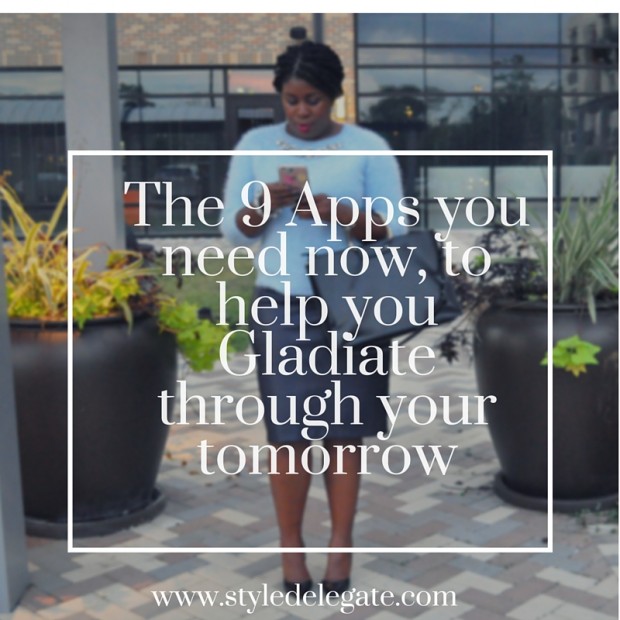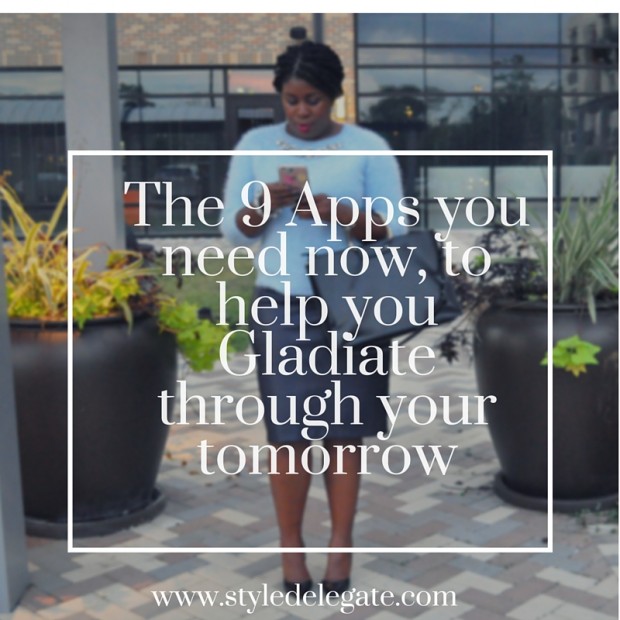 I can barely remember what life was like prior to smartphones and I dare not go back to those dark, dreary times.  I'm very much hooked to the conveniences of having digital assistants to help me navigate through my day.  I thought it would be helpful to share a few of the apps I use in my day-to-day. I'm sure you're all familiar with the use of Facebook, IG, and Snapchat… I wanted to take things a step further. Here are 9 of the 20 million apps that I'm currently using. 🙂
If you have some cool apps you want to share, leave them below, I've got a serious love for useful apps, especially the free ones!
---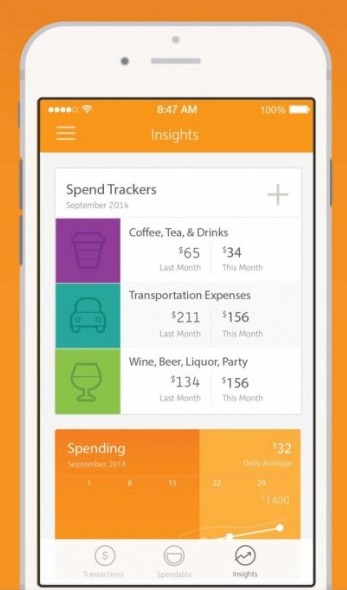 1. Level Money (LM): This app is so helpful and easy to follow. You will appreciate having this easy-to-use financial tracker at your fingertips. It's pretty intuitive, you won't need a tutorial to understand how it works. The Level Money App makes it easy for you to know where you are with your budget and to stick to your financial goals without having to dig through receipts and physically track purchases, payments, and disposable income. This app comes equipped with notifications as well, so there is no reason to not know your financial standing.
LM is pretty dope + handy because:
-It takes the guess work out of the question " What can I spend today?"
-It enables you to view activity across all accounts, in one central place– no need to login and out of accounts— gotta love these sweet little modern conveniences, right?
-LM allows you to build a convenient financial plan that adjusts to your life, and keep it readily available to you everywhere you go. This beats carrying your budget around printed on paper for sure. But, then again; when I think about it…  ummm, I don't think I know anyone who does that, Do you? 
Though Level Money is great for keeping an eye on your financials, it's not an all encompassing budgeting system. Furthermore, do note that this app isn't real-time, so there may be a few transaction delays here and there. 
---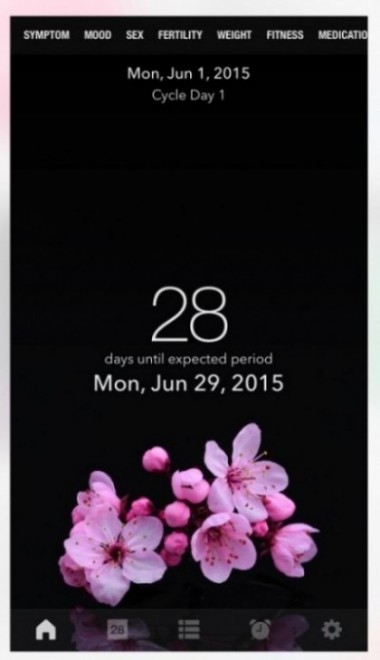 2. Life Period Tracker (Menstrual Cycle Calendar): We ladies love a good surprise, but surprise visits from aunt "Flow" are a major exception. I like to know when my folks are coming to town so I can plan accordingly, thats why I keep track of aunt "Flows" monthly visits via my handy Life Menstrual Calendar App. Not only is the app user friendly, but it also has that grown woman feel to it, the interface looks pretty sophisticated. Though it's a menstrual calendar, you can also track things like weight, ovulation, medication, and your menstrual moods. Tracking your cycle makes it easy to answer the doctors questions at routine check-ups… it really takes the guess work out of things.
Life Period Tracker is pretty dope + handy because:
-Life Period Tracker has user friendly features and a sophisticated design that makes tracking your lady business seamless
-The mood tracker helps you identify patterns, reoccurring symptoms and or mood swings that could be associated with your menstrual cycle. 
-The symptom tracker makes conveying information to your doctor painless.  Just pop open the app and your menstrual history along with all of the associated info is right at your fingertips– talk about adulting, I'm so here for this, ladies!
---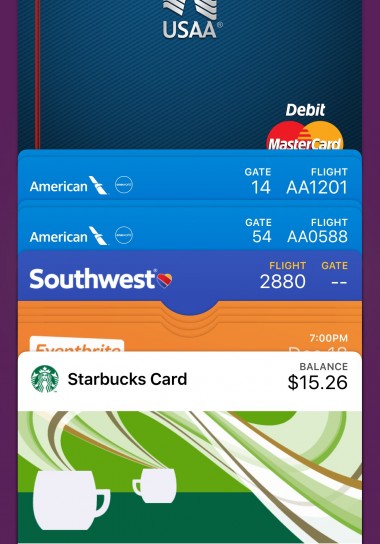 3. Wallet: Wallet will make your life so convenient. No more scrambling to remember where you put your tickets. This app helps me situate all of my tickets and event info in one place. I can't remember the last time I used paper tickets for anything.  I store everything right on my phone. I'm talking movie tickets, flight information, Eventbrite tickets, bankcards for the convenient use of apple pay, you name it! Morning coffee? No prob, I use my wallet app to make my purchases… using the app has its perks— I love getting those Starbucks rewards. They're always clutch.  Come through free coffee, come through! Another convenience is that when you save your flight information in wallet, the app notifies you of gate changes. HOW EPIC! This feature alone makes the app worth it.  Running clean across the airport is not whats-up, like ever! Having this app on-hand has saved me plenty of times.
Wallet is pretty dope + handy because:
Umm, basically because it GIVES. YOU. YOUR. ENTIRE. LIFE!  From Starbucks rewards, to storing itineraries, to everyday purchases such as movie tickets and such– wallet makes living and doing SOOOO much easier.
--- 4. Audible: Some things are better left simple. Audible's one of them.  There isn't much to explain other than the fact that Audible is totally awesome. If you're a book lover then you should be using this app, like all of the time.  Especially if you enjoy reading but you're too busy to nestle up with a book. Audible gives you your reading time back, you can listen to books on the go. My favorite audible  experience to date is "Year of Yes" by Shonda Rhimes. The book is amazing but hearing her narrate her story takes things up a notch… we're totally bestie bound in my head. She and I have so much in common, I swear I love me some Shonda, she's my super hero, Lol! But yeah, audible. Get this app. You won't regret it. Oh yeah, and you accumulate points for the books you purchase, which leads to free reads. Thats a double yes! 🙂
---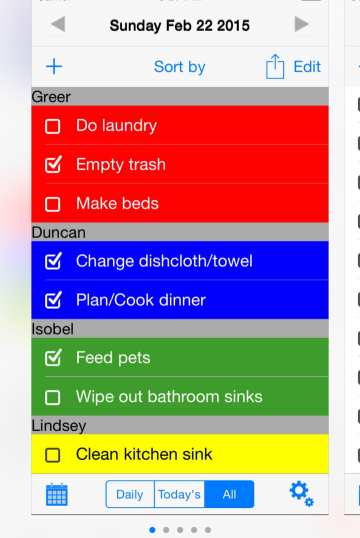 Motivated Moms (MoMo): With all of the daily "To Do's" we keep tabs on, housework can fall behind easily if we don't stay atop of it. Thats where this nifty little app comes into play. Motivated Mom is a digital chore planner. I use it to make chore lists and assign tasks. I like having the ability to color-code everything as well. This app will help you when it comes to determining who has dish duty. I don't know about you, but keeping track of chore lists can be a daunting task without having a system in place. MoMo can be a huge stress reliever when dealing with teenagers who despise chore time. If I leave it up to my littles, it's never their turn to buss suds. But, thats A-O-K because my boo MoMo helps keeps things in check around here. She's a keeper for sure!
MoMo is pretty dope + handy because:
-The app allows you to track and assign chore taskers via email, there's also an option to print the assigned chore list as well.
-MoMo has pre-set cleaning schedules- no need to think too hard on it, just follow the list and you'll be on your way to a clean living space.
-The checklists are portable and customizable– though there are pre-set list items, you can tweak the checklists to fit your individual lifestyle needs.
-You can sync multiple phones to the app, which allows you to easily assign and track the status of tasks. When a particular item is checked off of an assigned list, all devices  are updated to reflect that change.
---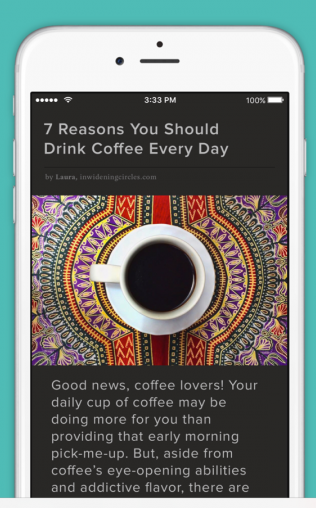 Pocket: Such a suitable name as its basically a virtual pocket for you to save links to articles and videos that you want to view later. It doesn't require a wi-fi connection either which makes it that much more useable. You can tailor your feed to things you're interested in viewing. Want more perks? No worries. Pocket also allows you to view your feed from any device. Want to recommend articles to your curlfrans? Pocket makes it easy for you to do that as well.
Pocket is pretty dope + handy because:
-The ability to save everything in one convenient location and access it at a later date or time from any of your personal devices.
-The ability to quickly discover and share new stories you'll love with personalized recommendations hand-picked by Pocket and the people you follow.
-Other perks include unlimited storage, tags that help with organization and the ability to listen to your articles with text to speech.
---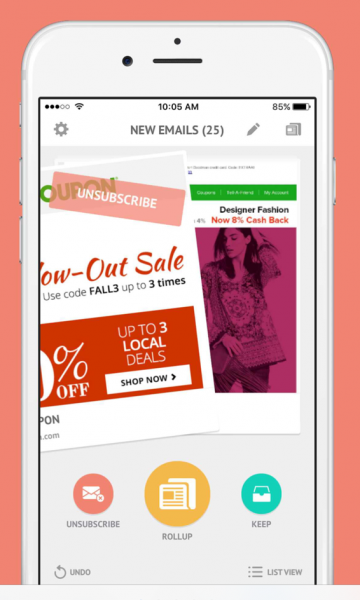 Unroll.Me:  This is the sure shot, ladies. You'll find yourself using this app to conduct monthly email detoxes. I love how easy it is to declutter my inbox. This app is definitely for deal seekers… you know, those of us who subscribe to newsletters and mailing lists in order to get that much wanted discount. The discounts have a way of making unnecessary purchases feel justifiable, don't they? I always take the subscription bait.  "Get 15% off of your next purchase when you subscribe to our mailing list" Sound familiar, yes?  No worries, friend! This app will help you manage subscriptions and tame your inbox.
Also, if you're an information muncher, you'll appreciate this app too. I've subscribed to many lists, only to find myself buried in emails weeks later. Unroll.Me makes mailbox cleansing super easy. Just swipe left to unsubscribe, swipe up to combine your email subscriptions and store them up as one digest, the "Rollup".  Simply swipe right to keep the emails you wanna continue receiving in your inbox.
Another cool feature for Unroll.Me  is that you can customize the Rollup feature to send  you your daily digest of emails at an appointed time of your choosing. Exciting stuff, huh? 
---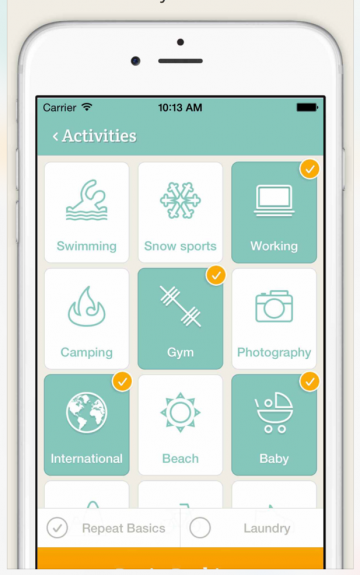 PackPoint Packing List: After using Packing Pro for a while, I recently discovered this new PackPoint app. I plan on using it to pack for my upcoming travel to Virginia Beach. I've played around with it a bit and so far so good. I don't think it's as in depth as Packing Pro, but I appreciate the simplicity of the app. I also like the layout as well. More to follow on this newbie.
Here are the benefits:
-PackPoint Packing List tells you what you need to pack based on the length of your travel, weather at your destination, and the activities planned during your trip
-PackPoint also accounts for what you need to have with you for international travel
---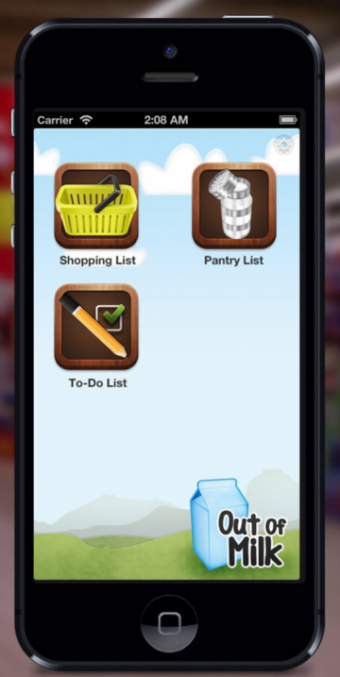 Out of MILK: Simple yet effective. This app allows you to take inventory of the things you have on hand in your fridge and pantry, and update your grocery list with items needed.
–Simplifies the groceries process
-Saves you money by keeping track of items within the pantry, no more buying unneeded stuff
-share lists by email and organize lists by custom category.
These are just a few of the apps I have on my phone. Do you use any of these apps? Do you have any app recommendations you'd like to share? if so, leave them below, I'd love to add them to this list of useful apps.