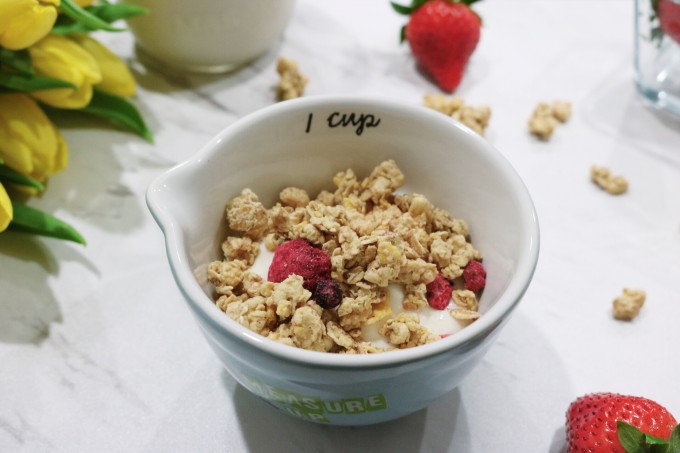 Let's chat about 3 Super Delicious ways to eat Granola for breaky in the morning. This came to mind because I've been working on balancing things around here, and a major part of living a balanced life is eating a good, healthy breakfast. Especially since breakfast is the most important meal of the day, right?
Well, my breakfast routine is pretty predictable. Basically, nothing happens in the morning before I get my dose of coffee or tea. I'm sure many of you can relate, you probably have a super cute journal, a t-shirt,  a coffee mug, or even desktop screensaver that reads "But first, coffee"
Well, for me, having morning coffee results in a decreased appetite,  so I don't typically eat breakfast until around 11:00p. Now, you and I both know that's lunch time, right?
As of late I've been committed to having a quick, small breakfast in the morning. I can't do anything too heavy, and I don't usually have a lot of time to cook in the a.m., so I've been flirting with breakfast options that are quick, light and delicious. Since I enjoy snacking on granola I figured I'd start by making a morning meal of it.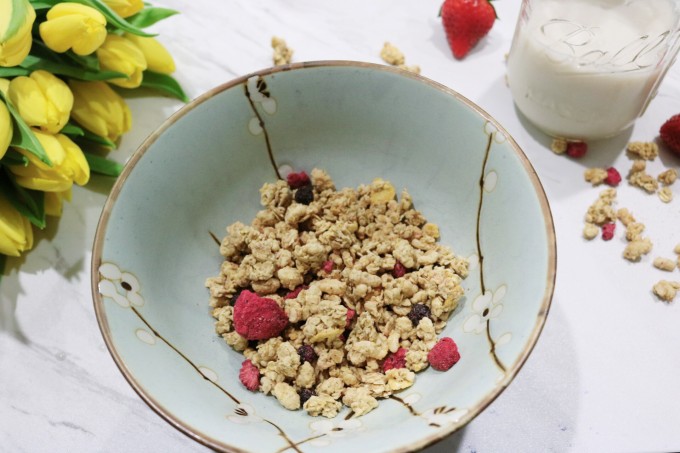 Grown Girl Granola: 
Funny enough, I still LOVE the kiddy cereal (and snacky foods). I'll straight smash a bowl of Cap'n Crunch Berries. Seriously! BUT, with thirty-five around the corner, it's (past) time for me to eat like a responsible adult. I'll always and forever be a kid at heart, but that doesn't mean I should continue eating like one.
I substituted the "Oops! All Berries" for Granola. Simply pour 1 cup of granola into a bowl, add almond milk, grab a spoon and indulge in some good ole Grown Girl (Granola) Cereal!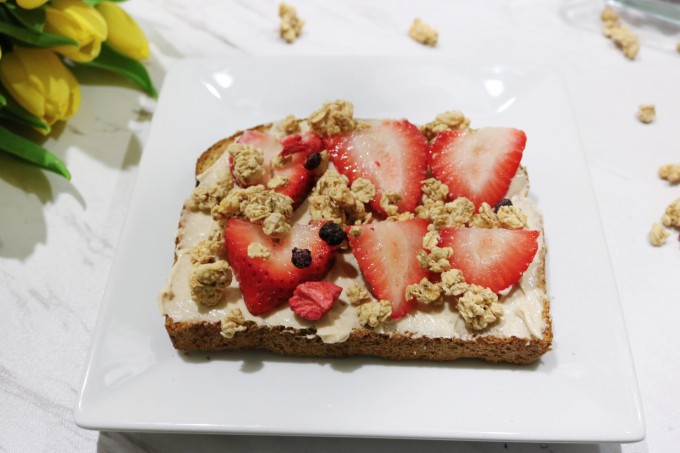 Maya's Tootie-Fruity Granola Toast:   
1 Slice of Multi Grain Bread
1 tsp of Cream cheese
2 Strawberries
Granola
 Just four ingredients, a toaster and you're done! All you do is toast the bread, spread the cream cheese, slice two strawberries into thirds (or add as many as you'd like) sprinkle the granola atop and you're on your way to eating good!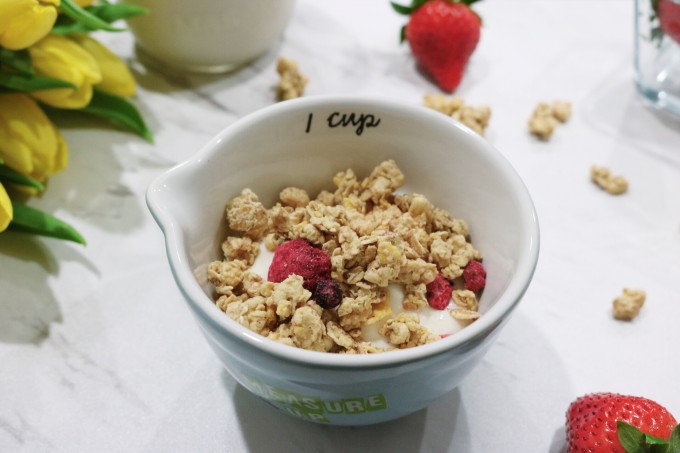 Sweet, Chic, Greek Yo-Gurt:
Nothing fancy here but the name!  Simply spoon 1/2 cup of greek yogurt into a bowl, add a little honey and sprinkle in a handful of granola.
Easy day!
What are your go-to breakfast recipes? Any tips or tricks you'd like to share? Leave a comment below. Also,  follow my journey on Instagram and twitter
"The nicest thing you can do for someone is make them breakfast"
 what are you waiting for darling, get to making! 😉