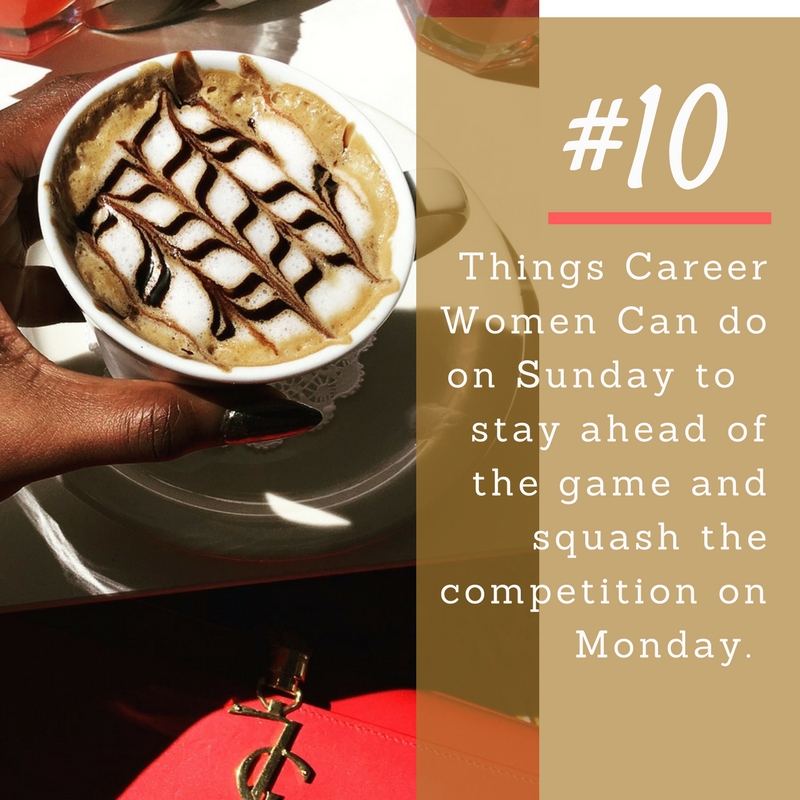 Have you ever heard of the 7 P's?
Well Monday's no exception to this legendary rule.  Proper Prior Planning, Prevents Piss Poor Performance. Here are a few (not-so-typical) tips that you can apply to your Sunday that will help you slay the h*ll out of your Monday!!!
---
Email yourself a morning affirmation message along with an inspirational quote that will get you energized to produce quality work and aid in maintaining a positive outlook— READ IT before addressing your to-do list or anything else in your inbox.
Get organized.Carrying your laptop, purse, coffee, and brief case can be a bit of a handful in the morning. Organize your things the night before and put your brief case and laptop in the car, it makes it so much easier when it's time to hit the door in the morning.
#BrunchSoHard
For me Sunday's are non-negotiable. Brunch & Bottomless Mimosas are a must… it's my day to forget the calories, and push a side my to-do list for some well-deserved me time. I alternate Sunday's between family time brunch sessions with the children, scheduling time to converse with friends and strategizing for passion projects. I typically opt for outdoor seating as it's the prime location for people-watching and day dreaming. I typically block a minimum of 3 hours of free-to-do-me time and I prefer starting the day early which allows me to maximize my time off— most brunch spots are open around 10:00 or 11:00, so that's when you should schedule to get there.
Find a local spot that you've been wanting to try and DO MAKE A RESERVATION… the brunch business is SERIOUS business, and folks will be lined up and ready to eat and drink at the flip of the open sign so having a reservation is the smartest most efficient way to brunch as you'll spare yourself from some serious wait time.
NOTE: If brunching isn't your thing that's cool, just schedule some time to do something that you enjoy doing. Taking time to decompress on Sunday is essential to having a productive Monday.
Read business articles to get career inspiration and choose one to three skills that you want to  strengthen over a period of time. This is something I practice often and it gets me in the right mindset to crush the hell out of my Monday and my work week overall.
Here are a few quick excerpts to help shift your Monday Mindset and prepare for the work week:
"Strong communication skills. This is the most fundamental people skill because it encompasses your persona and ability to get along with other colleagues, persuade others to listen to your ideas, and much more, Taylor says. "If you have a gift for the spoken and written word, you will always put your best foot forward. Being articulate is highly prized in today's workplace, when time is at a premium and technology requires constant communication."
Parnell says articulation is a very important "people skill." "Illusory transparency refers to the notion that as we speak to others, we believe that they are of the same mindset as us, and are processing things exactly as we would. Even if this were possible – which it's not – it would be incredibly challenging because of semantic ambiguity," he explains. "Universal quantifiers for instance – all, any, every, etc. – are systematic violations of accurate communication in that they are rarely true in a literal sense, and leave significant room for translation. Effective communicators are very careful to understand these systematic violations, and avoid them or accommodate them when necessary."
Active listening skills. Hearing someone and actively listening to them are two different things, Hockett explains. Most people hear someone speak and start to form a response in their mind (or worse, starting talking) before the person finishes what they're saying. "The key is to actively listen, which takes more time but produces better results. It means you listen without interruption and then take the time to think and form a response before replying. It takes practice, but it pays off."
Taylor says the axiom "we were given two ears and one mouth" speaks volumes. "Be a good listener and remain sensitive to the needs of your workers and boss. This people skill can be practiced; and once honed, you'll see the difference in the positive reaction of those around you." Read the full article here at Forbes
Make Getting to work EARLY a PRIORITY: If you regularly get to work a little early, it's almost certain that someone will notice. Most likely, it's someone else who likes to arrive ahead of the standard work day — maybe a manager or even your supervisor. Seeing that you make a point to beat the rush will make an impression for sure. And, there's no harm in that. Besides,  the morning is a relatively quiet time, and because at this point of the day you have so many hours ahead of you, mornings are the best time of day to make plans. Taking this opportunity to map out your day, and your priorities, can help you accomplish more in a more intentional way. "
Read the full article Here at Business Insider
Workout—>>> Here's a quick 15 Minute Routine that doesn't require leaving your house.
Go figure, it's named "Wake up call" try it and let me know what you think.
Plan your Monday Meals in advance—here are some quick recipes that you can try:
Crispy Chicken Parmesan with Tomatoes and Mozzarella
Orange Chicken 30 Minute Skillet Recipe 
Planning your meals in advance makes evening meal prep much easier and if you're really feeling good, you can even prepare the meal in advance, cook Monday's meal on Sunday and free up some time in your schedule on Monday.
Eat pasta—and focus foods the night before and drink plenty of water:  Not sure where to start? Read this article "9 brain foods that will improve your focus and concentration. "Takeaway: To boost your ability to focus, eat/drink more: Blueberries, green tea, avocados, leafy green vegetables, fatty fish, water, dark chocolate, flax seeds, and nuts.
Read the full article here 
Prep your clothes the night before, and be intentional about what you wear– what you wear should make you feel empowered and confident— whatever you do, avoid dressing according to how you feel on Monday morning. TRUST ME!  If you have a power suit or blazer that makes you feel amazing, WEAR IT! AND wear it with confidence. If you have a pair of heels that make you feel on top of the world, rock them. Have a simple wardrobe that needs a bit of a boost, find a statement piece that you can wear to spice things up a bit. Looking the part, is important. If you want to be the boss, then dress like it! Especially on Monday.
Pro Tip: Purchase a steamer, it's such a time saver and it's super convenient to use. Hubs got this one from Target, it's amazing and affordable. I absolutely love it! It's much faster than trying to iron. I steam my stuff the night before and hang it, so in the morning all I have to do is shower, grab and go!
Lastly– GET SOME REST! Rest = Refreshed. Use some self discipline and avoid scrolling through social media. Thats a major distraction and it will prevent you from getting proper rest. I know it's hard ladies, but it's totally worth it!
Come ladies, lets crush the competition,  lets show up and show out in real boss like fashion!