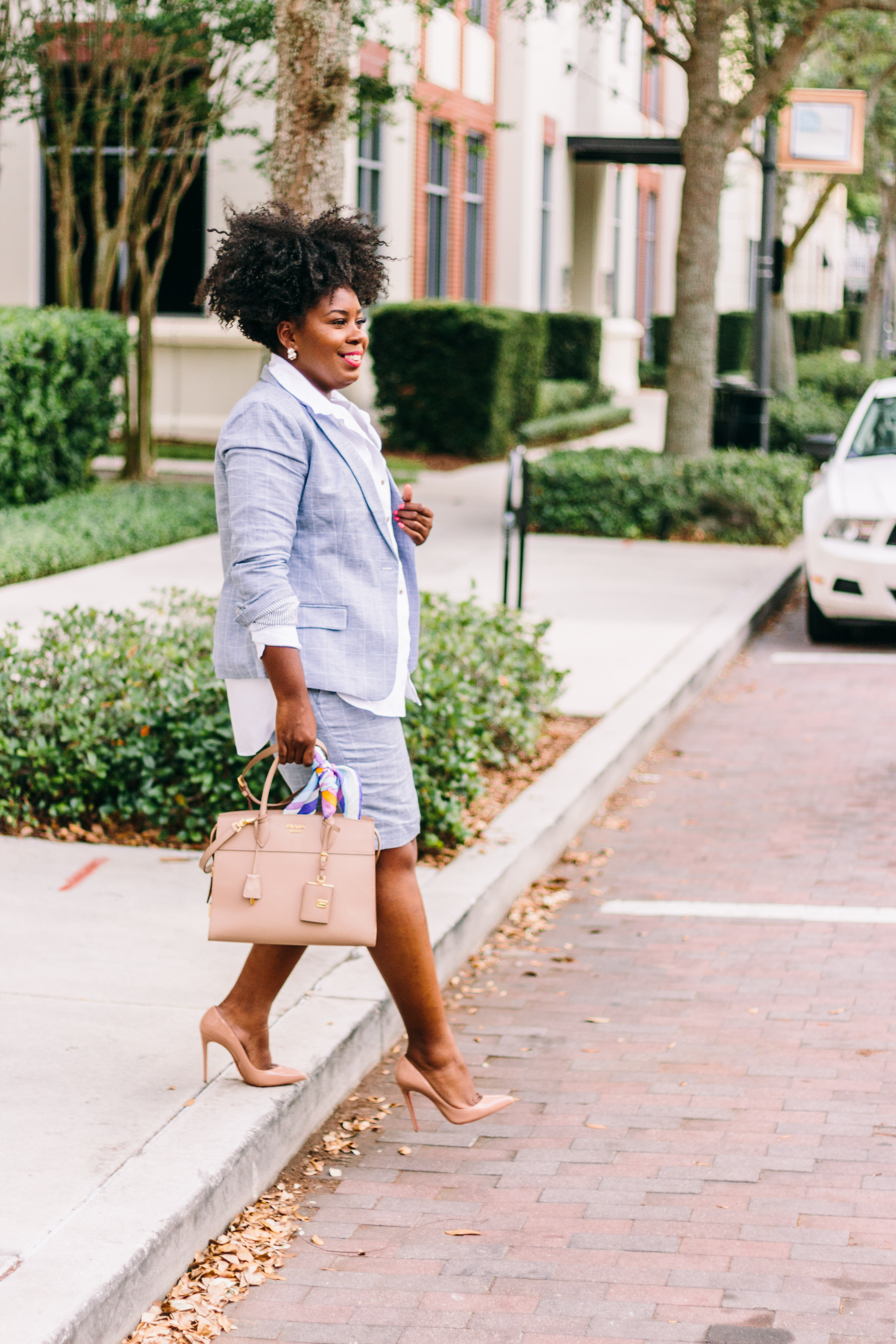 "
When you look your best, you perform at your best. Make a decision right now to upgrade your image and write an affirmation concerning your new look. Write down what you want people to say about you. Include a description of how you feel when you dress your absolute best. Speak the affirmation to yourself in the mirror every day before leaving the house. Affirming your image upgrade aloud will help you make a change in your heart as well as on the outside.
Short suit's are my jam. I've always had a love for them and I've recently decided that I was taking this one on a spin to the office. Summer's are pretty hot here in Orlando… Duh! Thus, wearing a pants suit isn't always a practical option. Admittedly, depending on your work environment, sometimes it's the only option.
However, luckily for me, my employers aren't very anal about what we wear. It's a pretty mixed business casual work environment so I have lot's of wiggle room in how I dress on a day-to-day. Given my own personal standard, I tend not to dress too casual. Mainly because I believe that what you wear to work conveys how you want people to treat you at work. Since I require respect, and to be treated and addressed professionally, I dress as a professional.
StyleNotes:
What I love about short suits is that they are polished, and that the jacket adds that professional appeal I love, without being too rigid. Hence making it the perfect combination for your midweek wardrobe. I pieced this look together during my Banana Republic event that I hosted a few weeks back. If you saw my live stream video on Instagram, you already knew this post was coming, Lol! You can get the shorts here and they are on SALE baby. Yes, you're welcome dear!
The jacket is still available as well, you can find it here. Granted, it was indeed a wardrobe splurge. However, it's one that's worth the investment as  you can style this classic piece multiple ways. I'm looking forward to sharing all of the many ways I style this beauty. A pair of fresh Stan Smiths and a summer tee is the perfect combination for mixing up your weekend style.
Here are the links to some of the other items that I chose as my summer faves if you're interested. Coral Linen Blazer, Textured White Blazer, Optic Stripe Blazer, Stripe Trench Dress, Peek-a-Boo Tie Sleeve Dress, Statement Necklace
Unfortunately, many of the items are unlisted as they have sold out 🙁 May link some similar items in my next post 🙂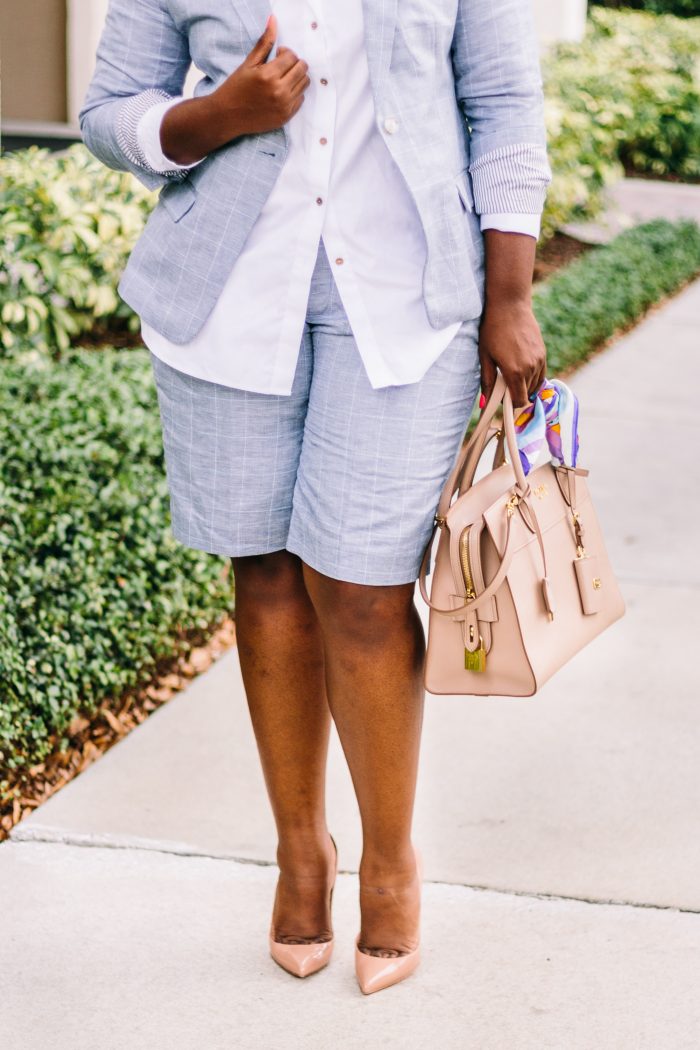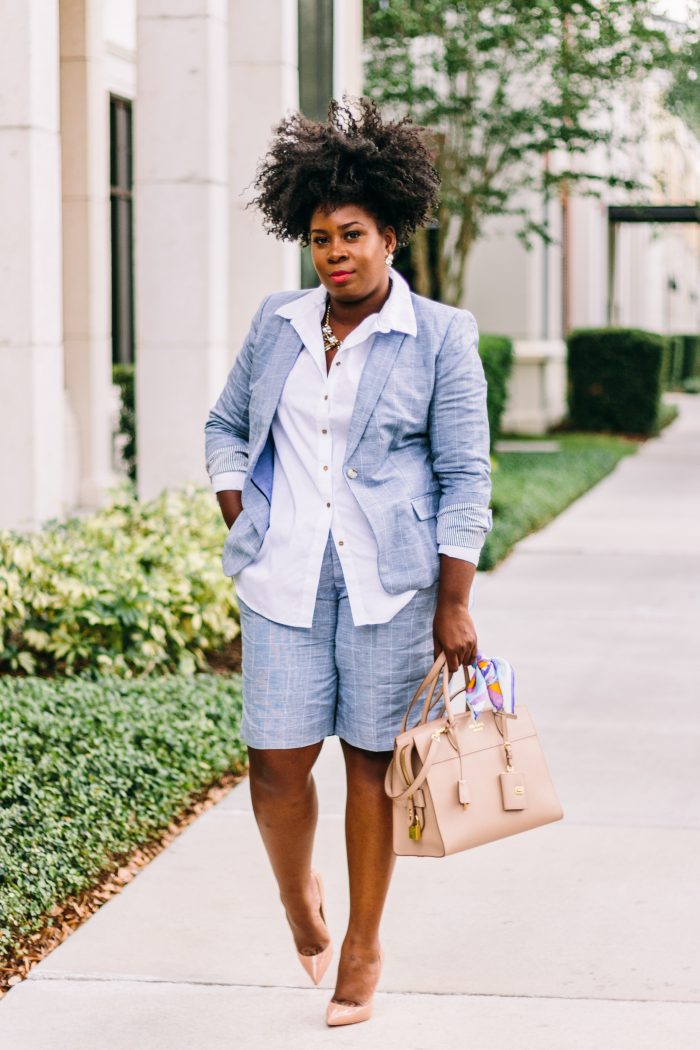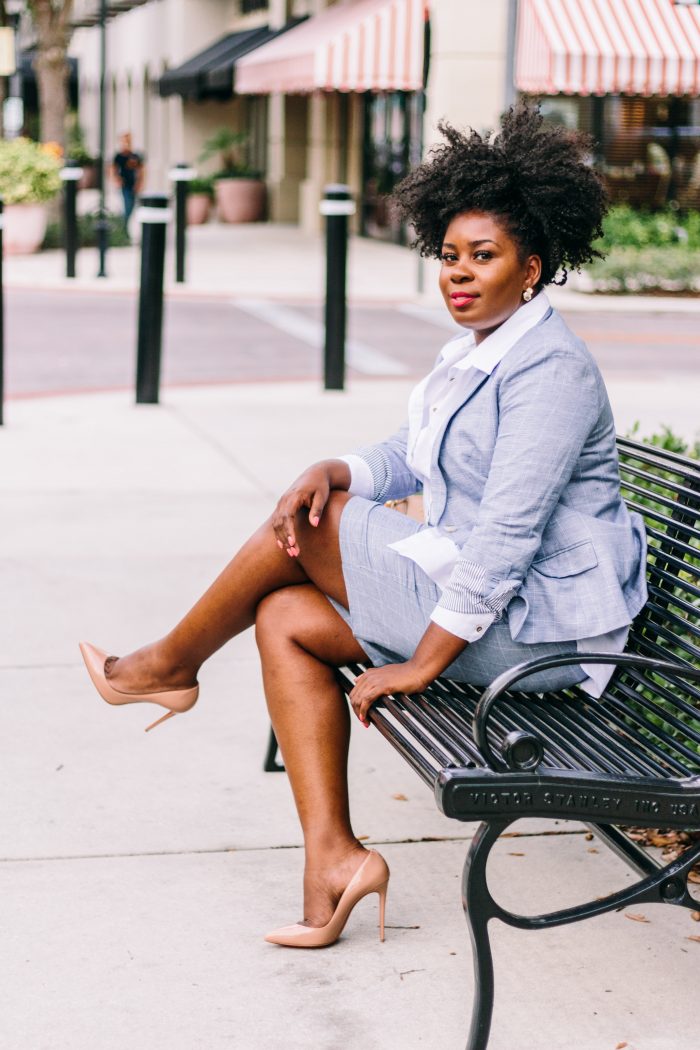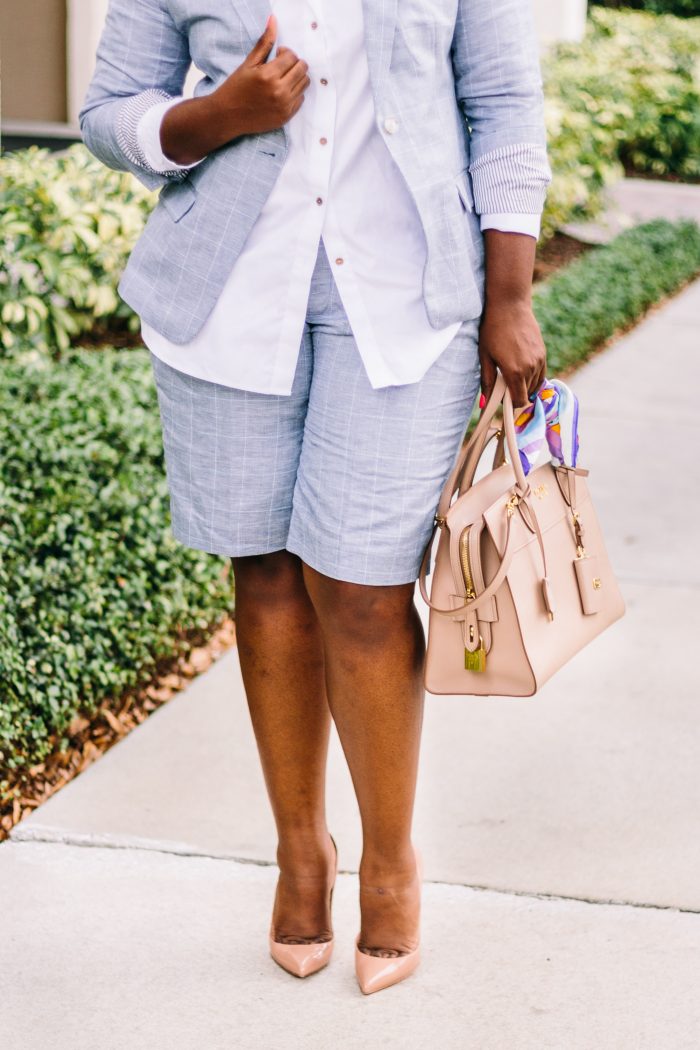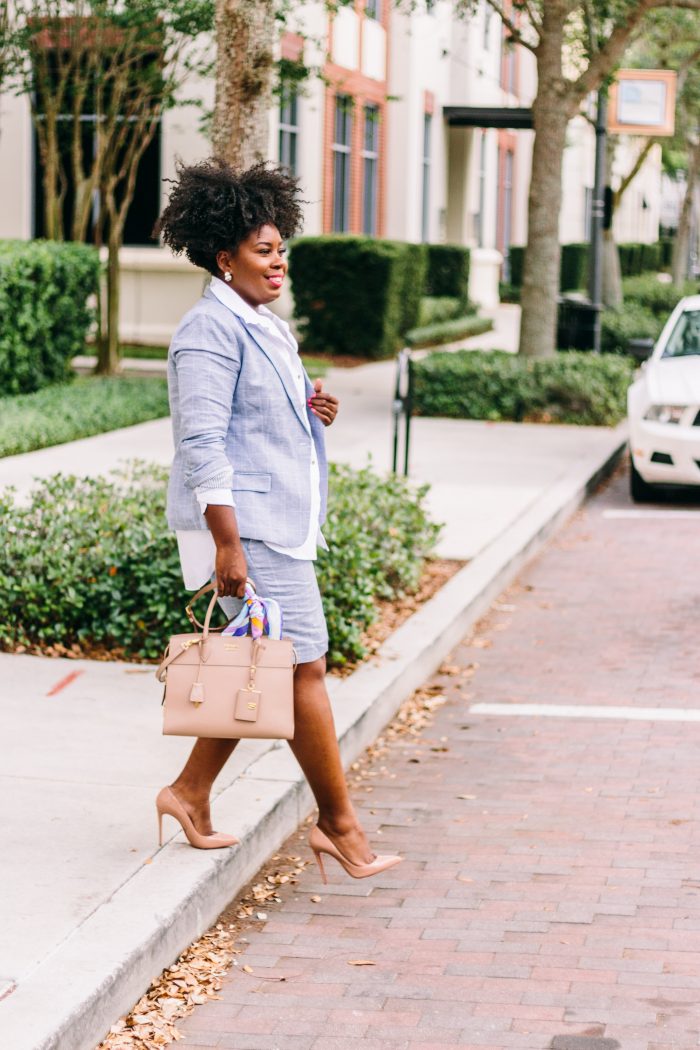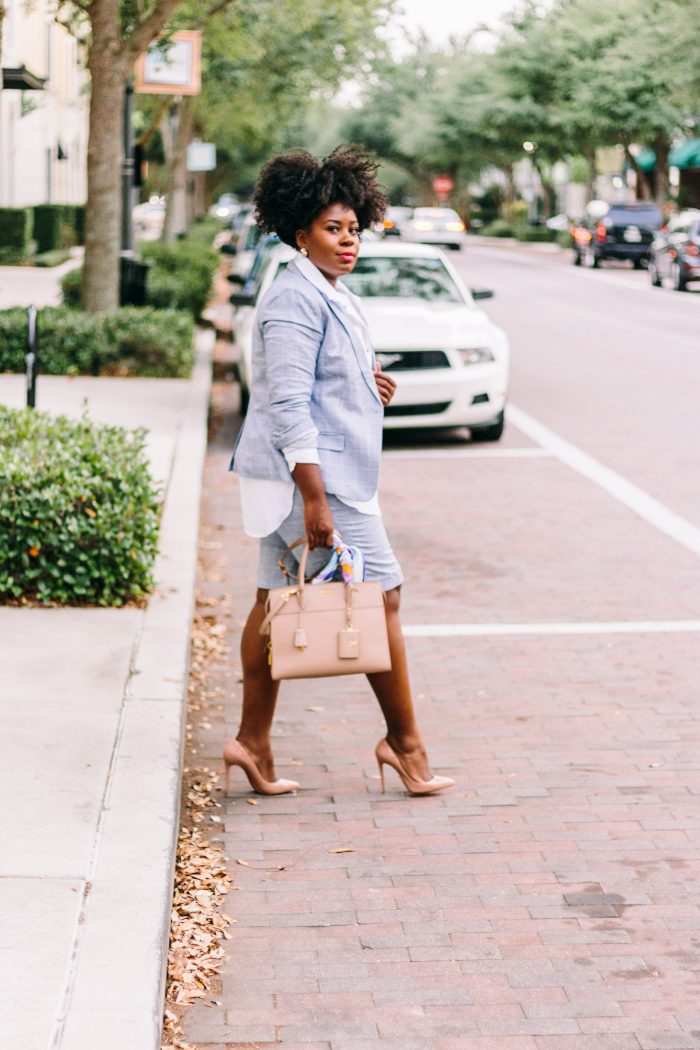 SS '17 L o o k B o o k:
An Assortment of Style for Various Occasions
"Progress always involves risks. You can't steal second base and keep your foot on first." — Frederick Wilcox
This hump day do something that pushes you outside of your comfort zone. Take a calculated risk. Shake things up a bit.
Besides, doing the same ole thing becomes mundane after while.
LifeStyle Note:
This week I started on a new project at work and at first thought I was a bit underwhelmed by the task. Mainly because I didn't think it challenged me enough. However, I took an inside-out approach to looking at the task and found that this was actually a sublime opportunity to demonstrate my leadership capabilities.
After scheduling a meeting with my leadership team, and expressing my concerns and recommendations for the project, I was able to develop a solution that would not only allow us to meet the project deadline, (which is a win for the entire team) It was also an opportunity to develop a few members of the workforce by providing them with hands-on experiences, and exposure to key elements of their roles as acquisition professionals.
Often times we overlook the aspects of our lives and our careers that can truly be rewarding to us.  We must challenge ourselves to view things objectively.  It's not what you have in your hand that matters, it's really how you perceive it and what you do with it that counts.
Think about David and Goliath. Goliath towered over David. Visibly, David was no match for Goliath. But the way David's beliefs were set up…. he knew that he had everything he needed to slay Goliath. He knew he had a rock, but he knew it wasn't just any ole rock.
That rock was  the key to everything he wanted. That rock was infinite freedom, and a better life for the people he loved. It was a ticket out of living a life of less. That rock equated to MORE. More of what his little, BIG heart desired. He put everything he had into that rock and his faith in Jesus and that is how he ended up victorious. THAT MY FRIENDS IS HOW YOU ARE TO SLAY THE FU*K outta your giants!
Can you think of any giants in your life that need a little slaying? How can you conquer it? Think about it and let me know what you come up with why don'tcha?