It's just the beginning of May and temps are already blazing. That's a tell-tell sign that its going to be a hot and sweaty #Summa17. I'm already strategizing ways to tweak my summer makeup routine to avoid the humiliation of a summer makeup meltdown. Whether you're heading to a white party, or a women's conference, you've gotta be on point– 'cause you never know who you're gonna see! That's why it's best to have your summer makeup essentials on hand.
As Will Smith says, "You don't have to get ready if you stay ready" ladies!
I recently partnered with Vanity Planet, to help you on your stay ready journey to looking good and feeling fabulous AF!
Months ago, like waaaay back in August time frame, I actually purchased a Vanity Planet Professional Makeup Brush Palette Set because I was trying to perfect my foundation, contouring, and highlight routine. The brushes have been a staple since. I use them everyday now. It's safe to say, I definitely fell in love with them.  When Vanity Planet offered to send me another set to review, I was like— WORD!!!  Man listen, my brush palette is one of the first things I toss in my travel bag, before I hit the road. I'm super happy, now I have two of them!!! This summer my itinerary is filling up fast so the extra brush set will come in handy. I'll be traveling to Georgia, Washington State, Texas, and Cali for business and my #VP Makeup brushes will be with me every flight of the way.
If you haven't heard about VP prior to now, here's a little company blurb to get you familiar
"Vanity Planet is an honest brand with a big personality that is dedicated to bringing you the best health, personal care and beauty products. They are deeply rooted in confidence and care, and only sell goods that they personally use and love. Vanity Planet helps ladies everywhere transform to embrace their bold and beautiful, at a price that is affordable!"
The best part of this Vanity Planet Collaboration is that you all get a whopping 70% OFF OF YOUR PURCHASE WHEN YOU USE THE CODE: MakeUpSpring70
Vanity Planet is also offering you discounts on their spin brushes and their hair care systems, all of which are linked below
Palette: MakeUpSpring70 (70% off the make up brushes)— Vanity Planet Makeup Brush Palettes are normally priced at $100. Use this code and it changes the price to $30— Small wins matter girl! Lol
Spin for perfect skin: SpinSpring70 (70% off the spin brush)–Vanity Planet Spin brush
Hair: SpringHair25 (25% off anything in their hair subheader)–Vanity Planet Hair Care
What I love about the Vanity Planet Professional Makeup Brush Palette is that this set includes all of the essentials you need and they are indeed SUPER affordable. Another added bonus is that the brushes have a professional looking carrying case to help you stay organized, which is a major win in my book. When I first got the brush set, I used the brush guide often to determine which brush is used for what. The brush guide is a handy tool to have if you're trying to hone your skills and learn a few tidbits. I also appreciate the fact that it takes the guess work out of trying to determine which brushes to add to your brush collection. It's hard enough to follow the youtube video tutorials as it is. The last thing I wanna do is jot down a list of expensive brushes to buy, especially considering the fact that the YouTubers use so many of them, Lol!
We've all been captivated by the YT makeup mavens. I'm guilty of marveling at how skilled they are with their brush-work and vowing that someday, I too will become as artfully skilled in my makeup pursuits.
My Vanity Planet Makeup Brush Palette has all of the brush essentials I needed to up your makeup game. As a matter of fact,  this is the brush set I used when my bestie and I jet-setted to Vegas for my b-day last year. I didn't leave the room without my highlight poppin'.  All-in-all, the VP fan brush is my favorite brush to use. You know it's all about a good highlight these days, and the fan-brush makes achieving a bronzed, sun-kissed highlight super easy.
I've been using my Vanity Planet brushes since August (of last year) and I haven't had any issues with the brushes shedding either. They're bomb for blending as well. I use them to apply my Juvia's Palette shadows and to apply my Lancóme teint idole ultra 24hr foundation. Now that we've transitioned into the warmer months, I opt to wear BB Creams instead of the heavier foundations, especially during the day.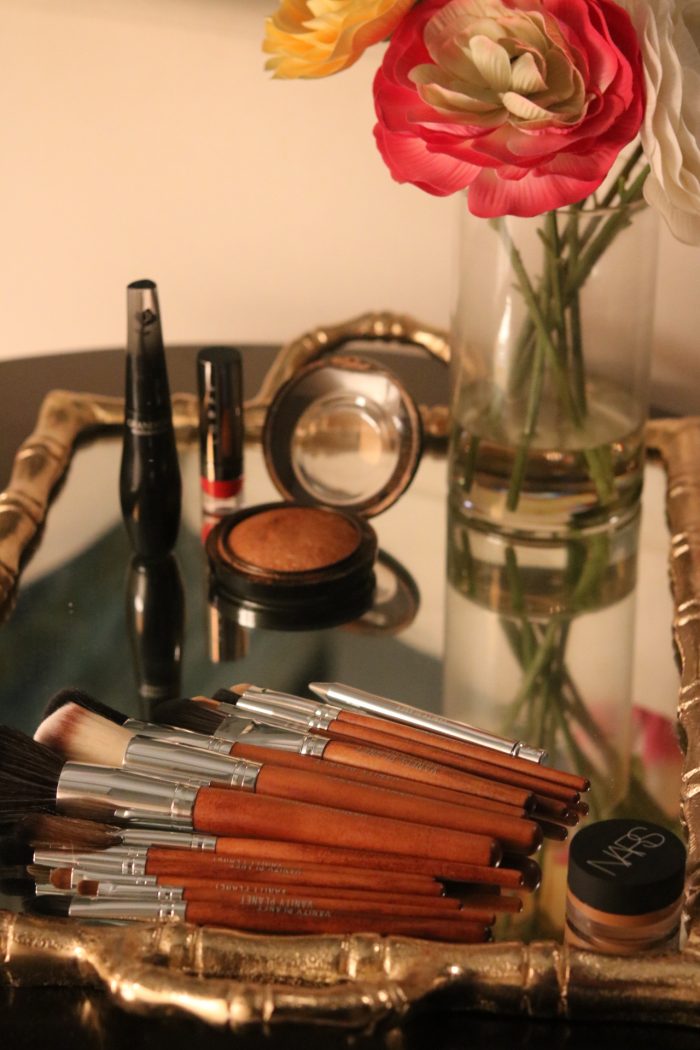 Every woman deserves a flawless makeup application, and an immediate confidence booster! That's exactly what Vanity Planet brushes are, AND they happen to be 70% off with the discount code, but only for a limited time. If you've been contemplating treating yo'self… here's an affordable splurge! 🙂
Click the links below and use your exclusive discount codes to get 70% Off of the makeup brushes or the spin brush cleanser for a limited time!
Spin for perfect skin: SpinSpring70 (70% off the spin brush)
Hair: SpringHair25 (25% off anything in their hair subheader)
Palette: MakeUpSpring70 (70% off the make up brushes)