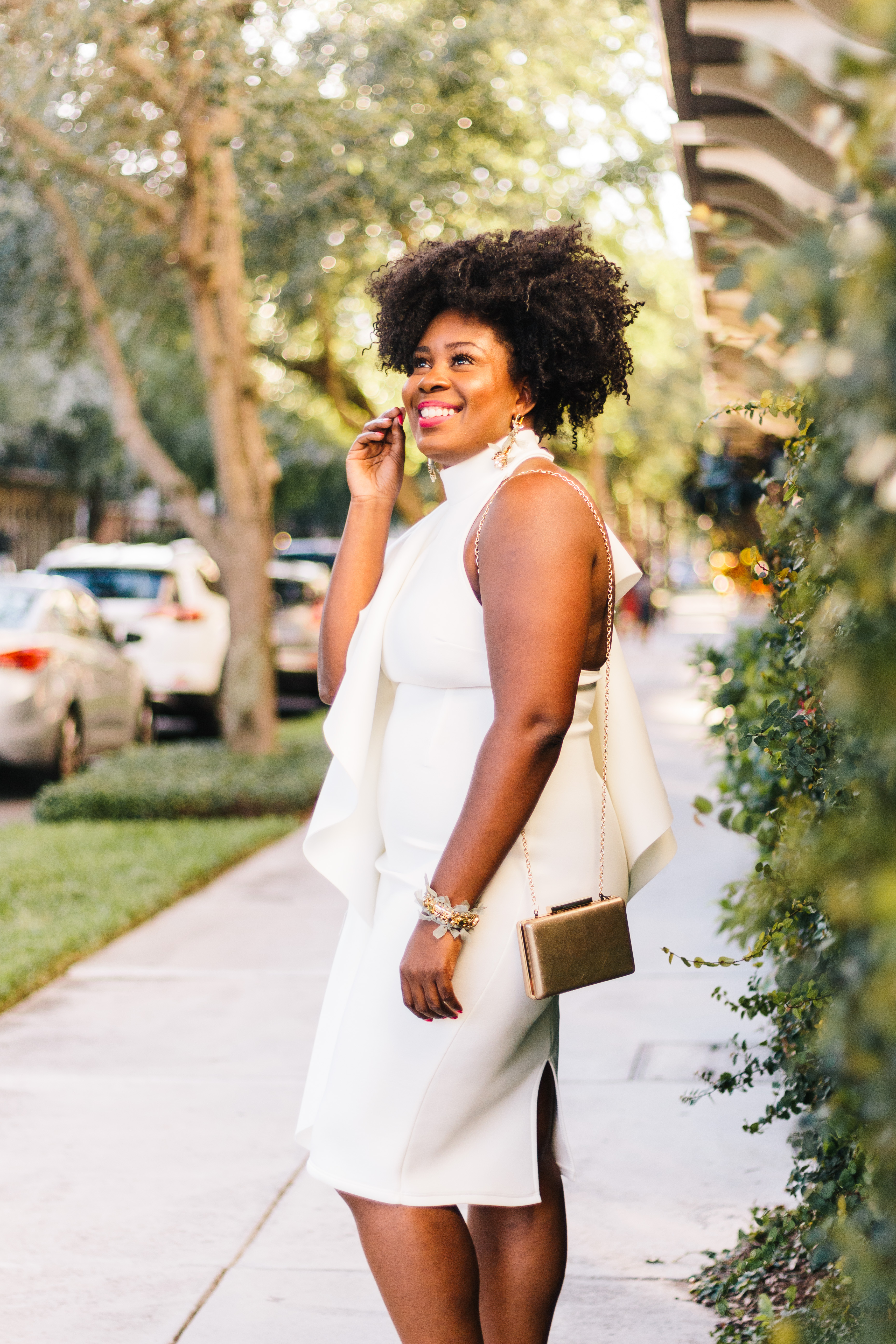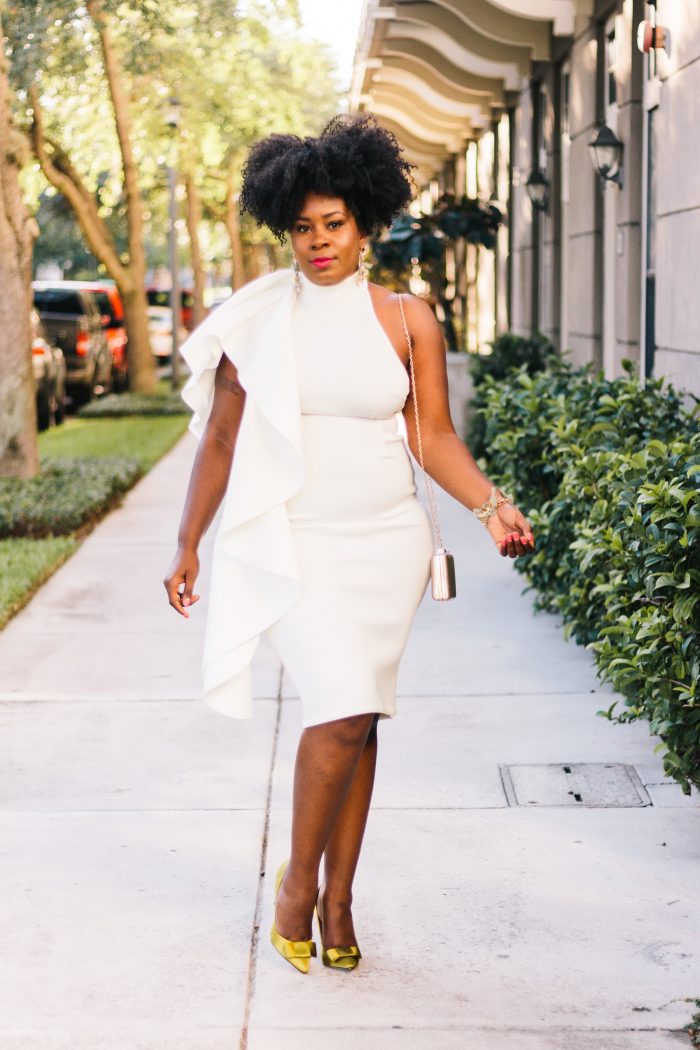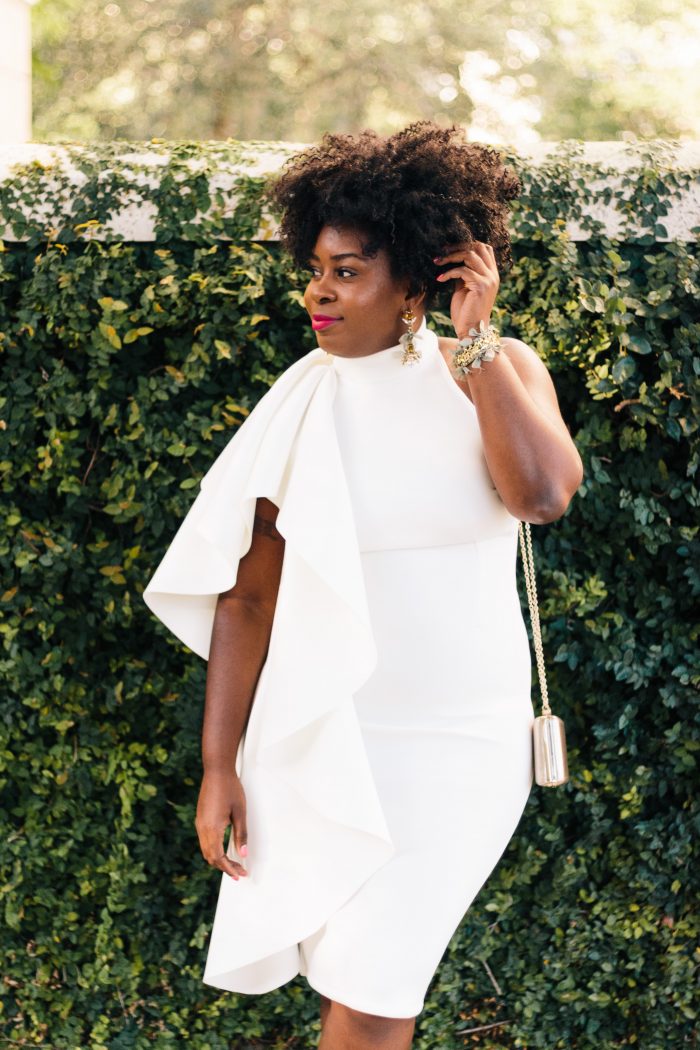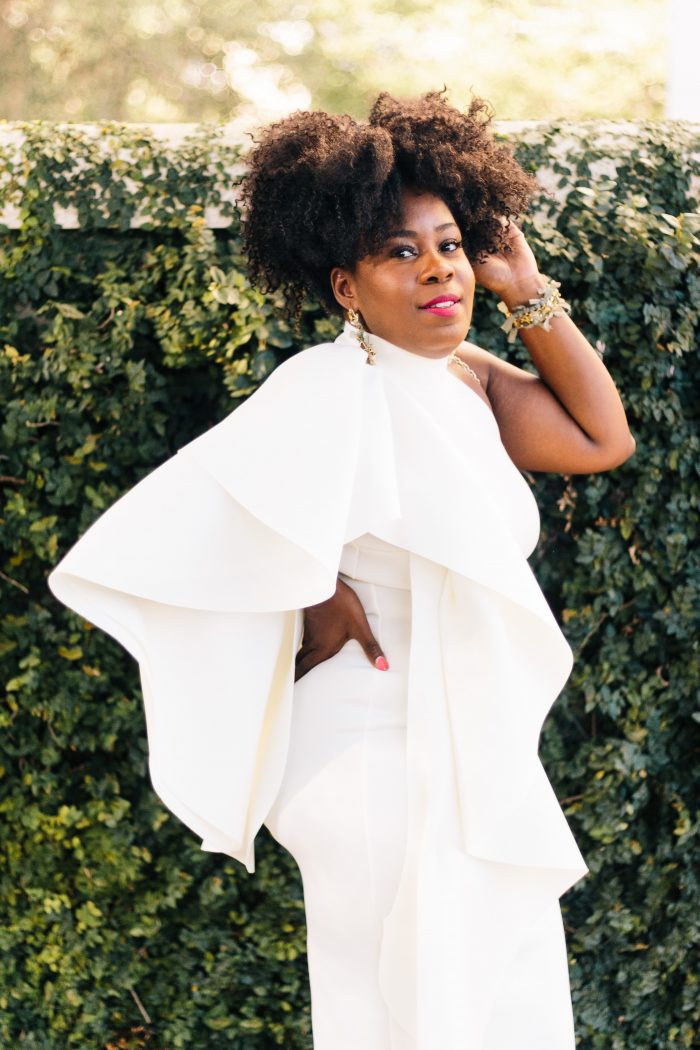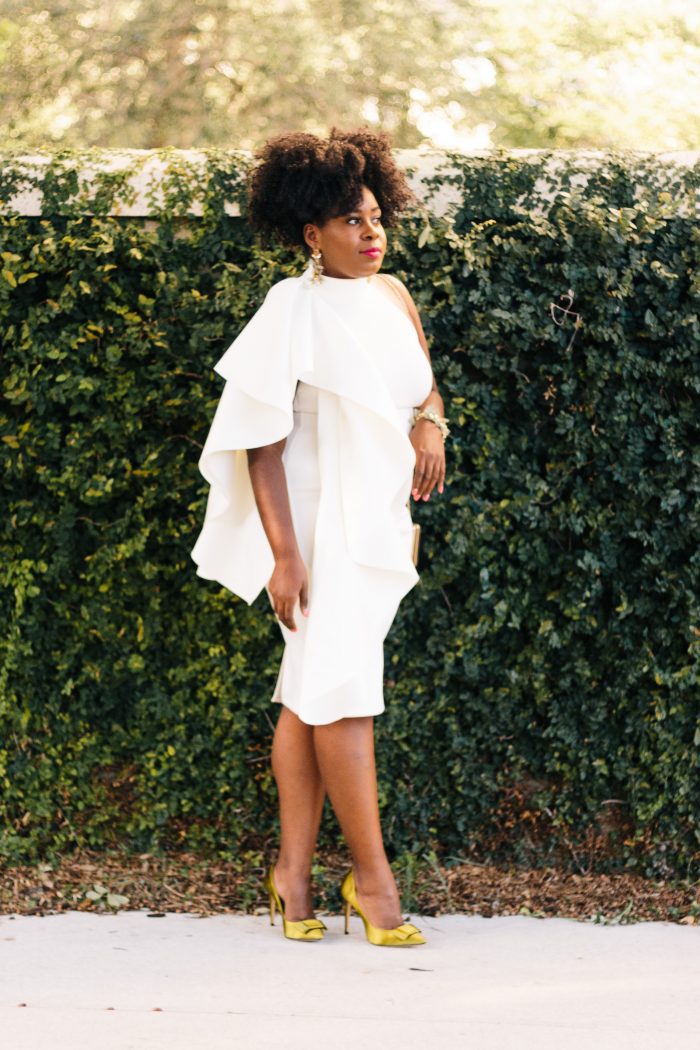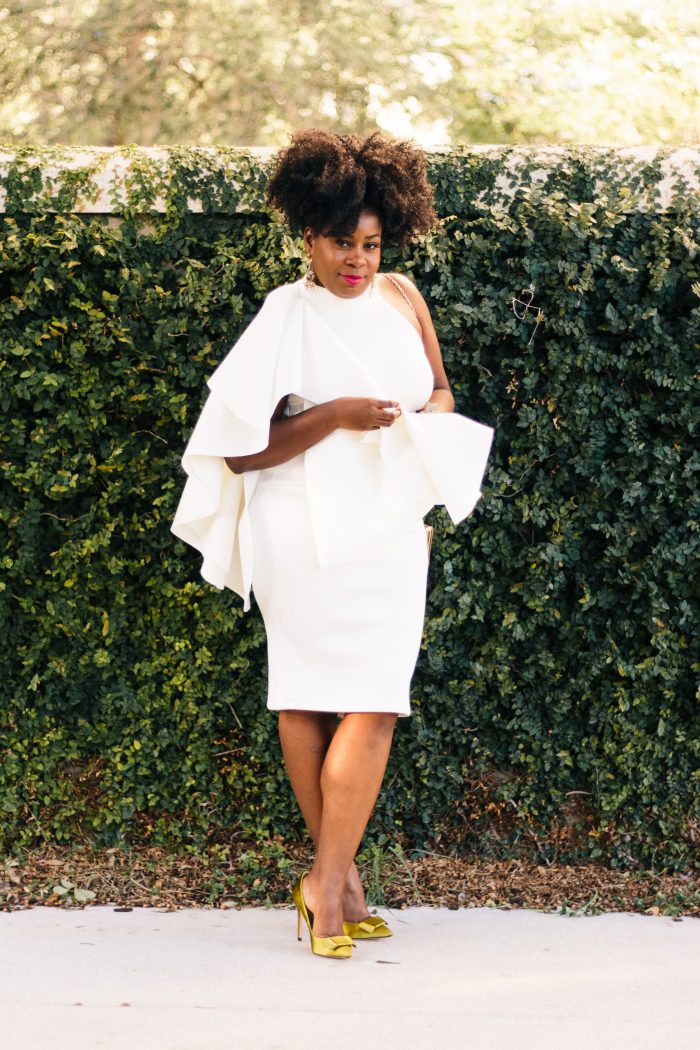 It's that time of year again. As you can probably predict by my attire, I'm heading out to an "All White" affair.  When attending themed parties, the details of your look matter more than ever. I chose this white dress because I'm obsessed with this life-giving ruffle on the shoulder AND the length is perfect. If I'm wearing a dress, in most cases it's knee length or just slightly above the knee. I find knee-length dresses to be perfect for every occasion (even nightlife). Have you ever heard of anyone looking "too classy". It really comes down to the fit and cut of the dress. Oh, and age may play a small part in it as well, Lol!
This look is definitely perfect for getting your day-time glam on. Since I'll be "brunching so hard", the breathable fabric will really come in handy.  I especially appreciate how the white rounds things out. Though the sleeve is a bit fussy, it still manages to be subtle yet strikingly elegant. This same dress, with this same sleeve, in LIME GREEN would be an absolute NO for me. Lol!
If you've never shopped Ladyee Boutique then hun, you're really missing out. They have some of the cutest stuff so be sure to follow their Instagram page.  Their customer service is top-notch too which is major for me. The packaging was adorbs, here's a screen shot of what it looked like before I opened it. Like, they took time to put a cute little bow on it. Details, I tell you… DETAILS! hahaha
The dress was actually backordered and the owner ensured that I received the dress well before my event (without including additional charge for expediting the shipping.)
If you love this dress, it's also available in blush (which is beautiful) Here's the link to the website 
I wanted to personalize my look and air on the opposite of "typical pairings". I originally envisioned pairing this dress with a pair of emerald green Blahnik's but they didn't have them in store, and I didn't have time to order them. I was stoked to find these classic satin wrapped bow pumps at Zara. They have the feel, simplicity and sophistication of Blahnik's without the price tag. #Winning:)
"In character, in manner, in style, in all the things, the supreme excellence is simplicity" [eltd_blockquote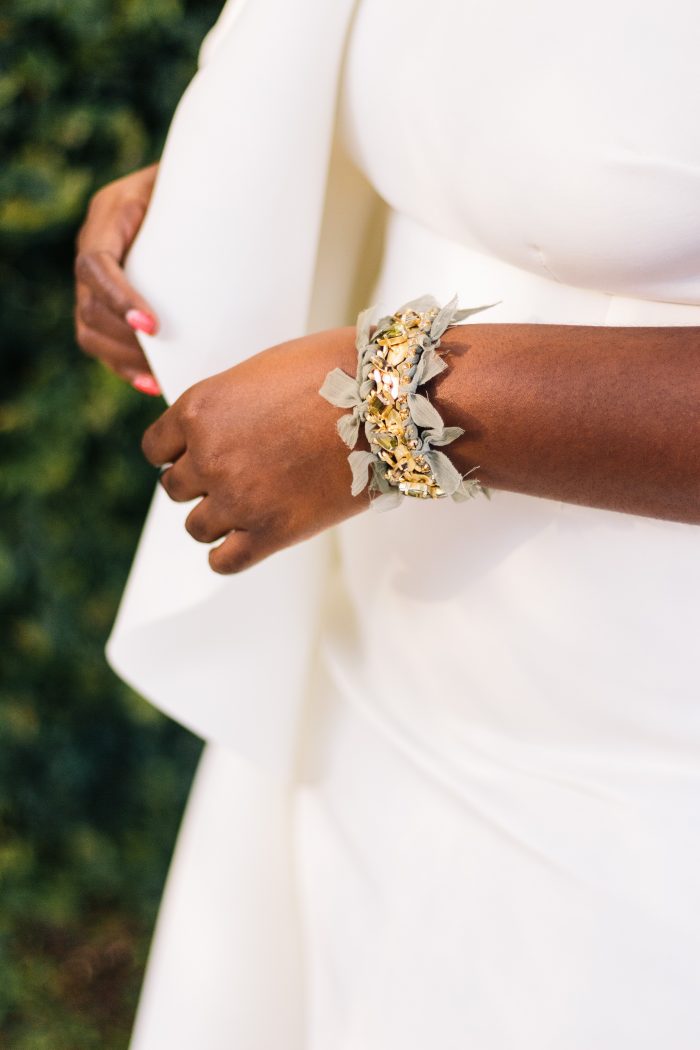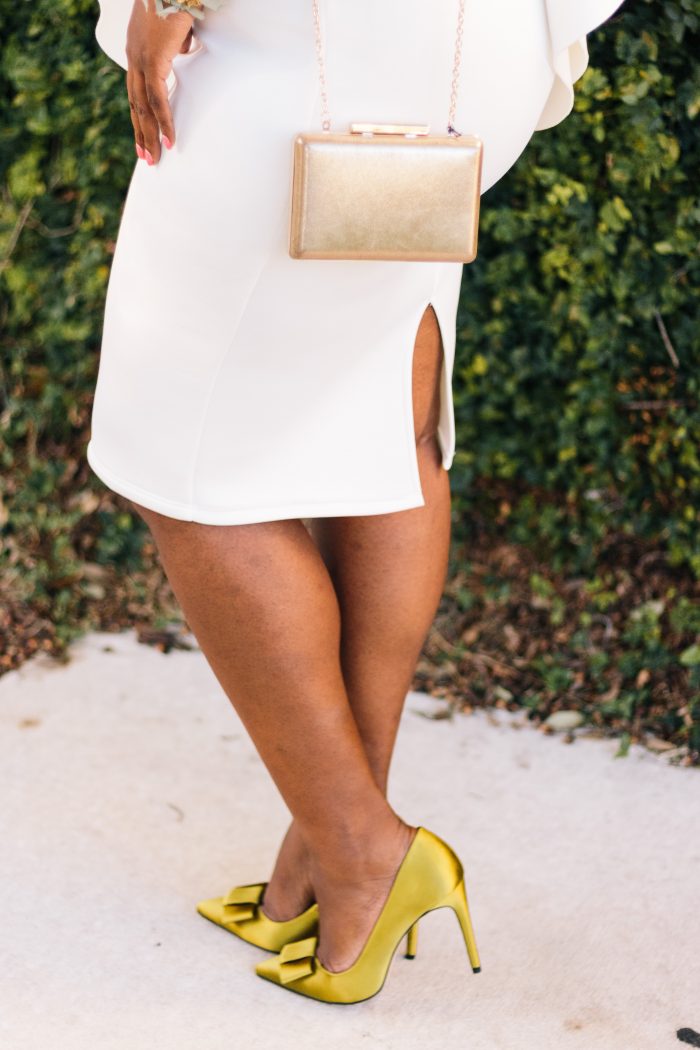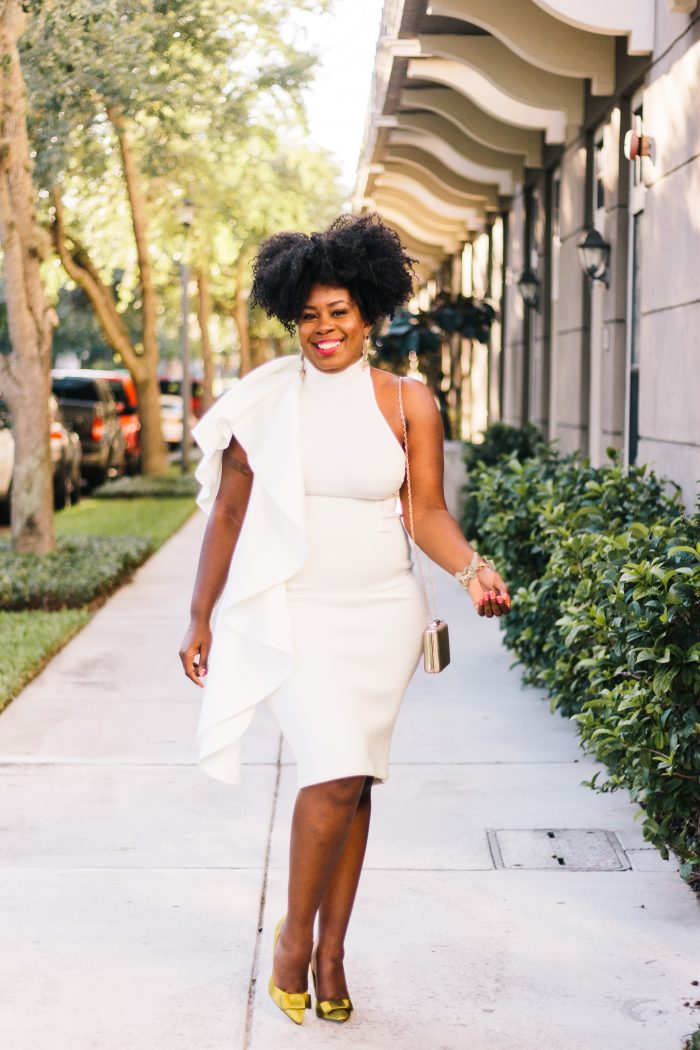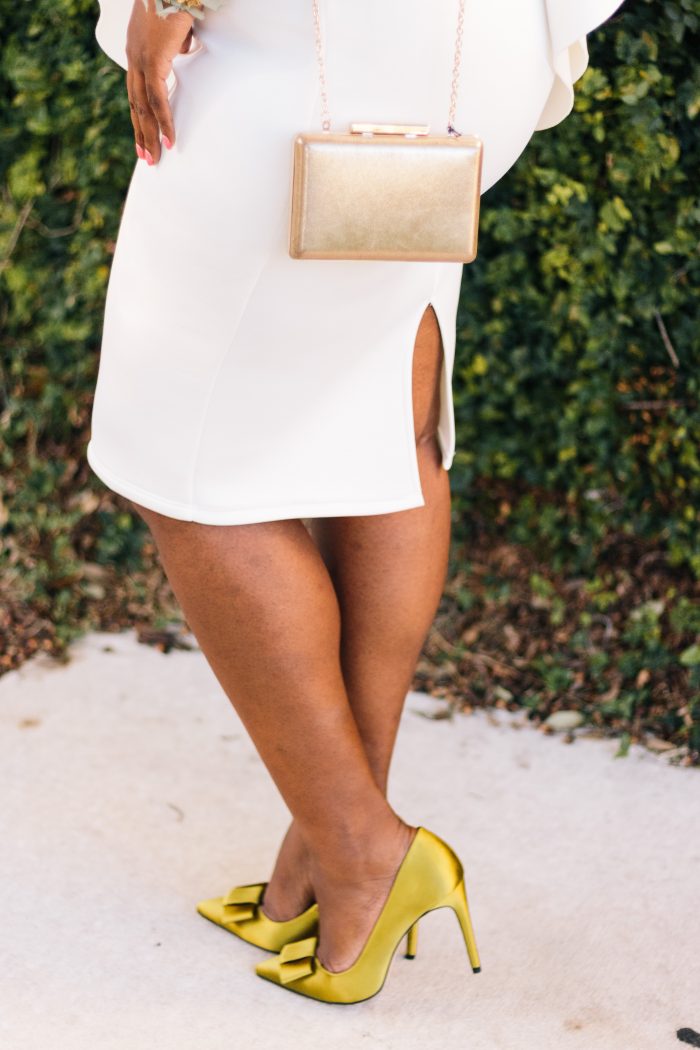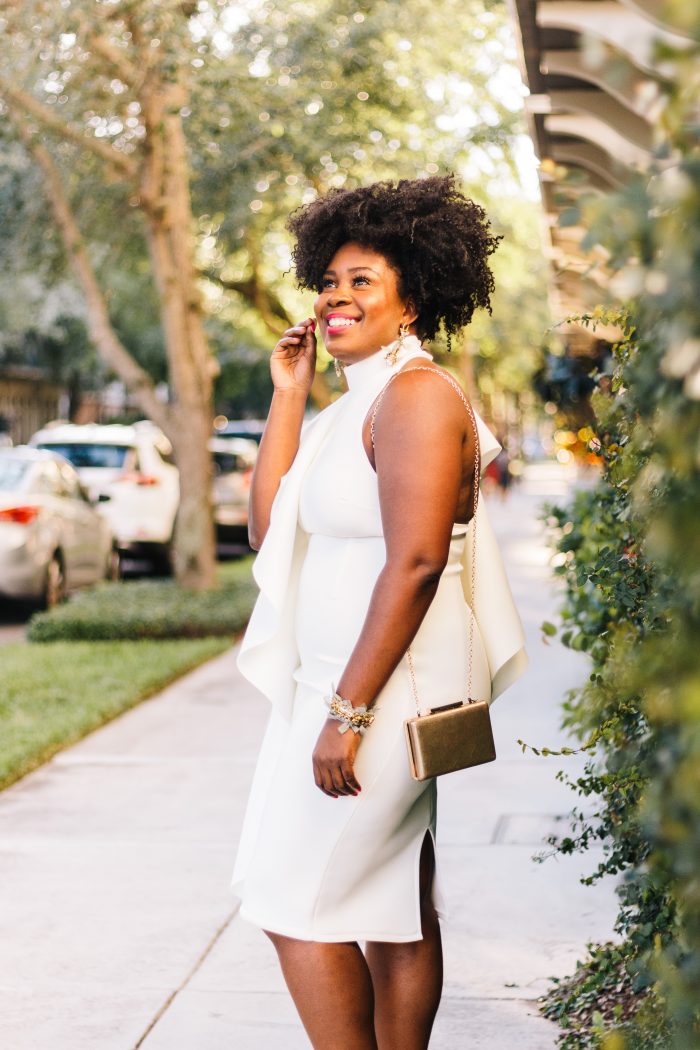 In Honor & Loving Memory
of those we've lost:
"We do not know one promise these men made, one pledge they gave, one word they spoke; but we do know they summed up and perfected, by one supreme act, the highest virtues of men and citizens. For love of country they accepted death, and thus resolved all doubts, and made immortal their patriotism and their virtue"
Today, as we carry about with our traditions of barbecues, cold brews, and traveling to visit friends and loved ones, lets not forget to take a moment to reflect and remember those who paid the ultimate price to protect the freedoms of this nation. Today is more than an extended weekend, or a break from the typical office rut. It's a day of reflection and remembrance .  Lets have a moment of silence for our fallen soldiers.