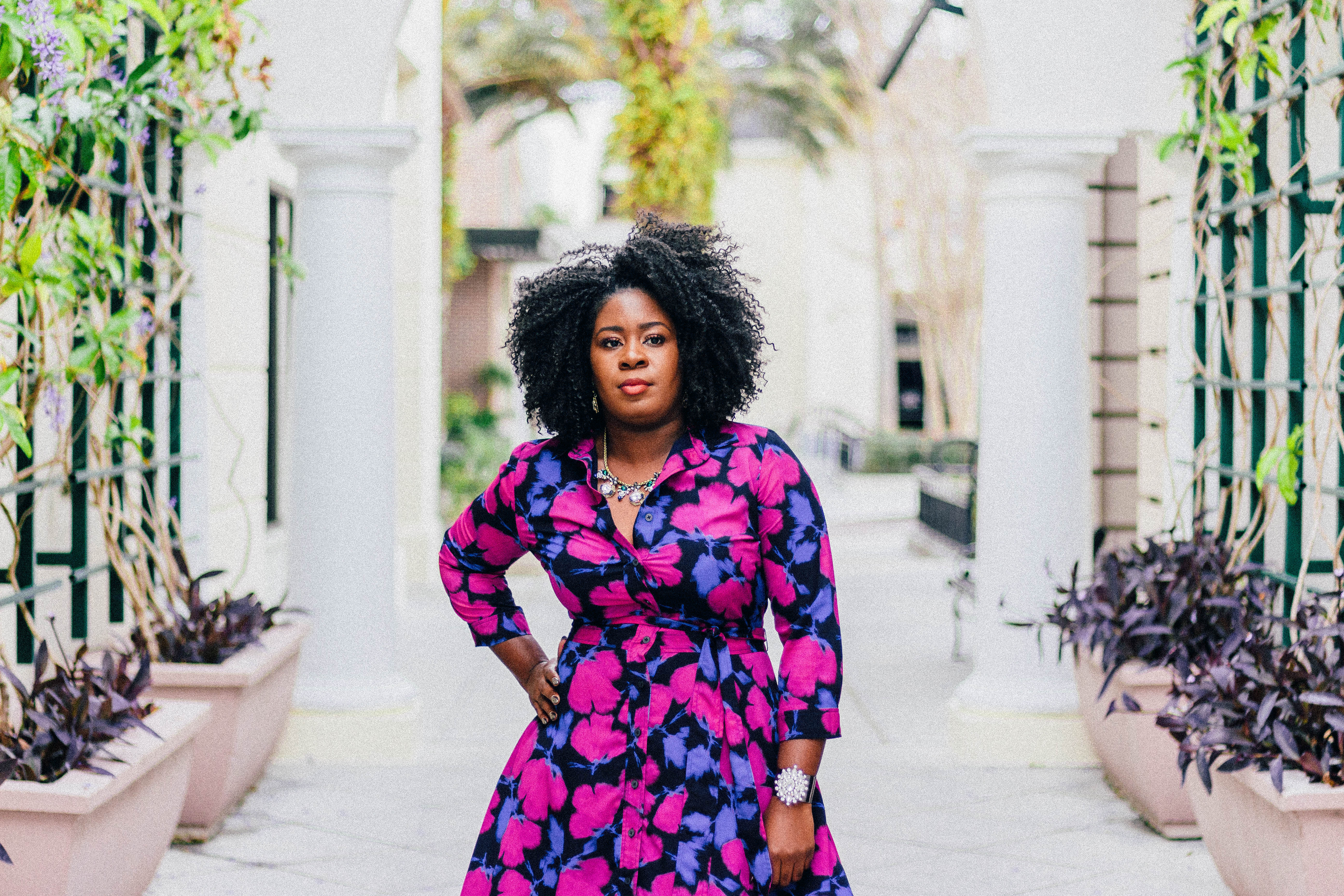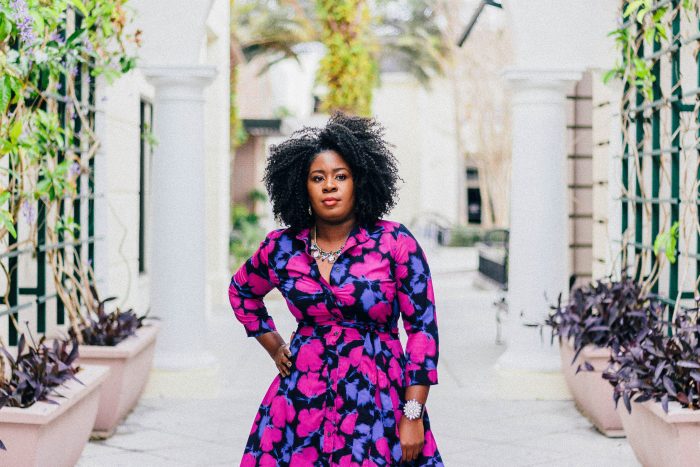 Ahhh, Maxi, we  curvy gals love her. She's so fun, free, flow-licious and flattering. I'm totally bananas about the comfortability that she offers. I'm a strong supporter and avid wearer of the maxi dress so naturally I fell head over heels for this dress when I spotted it at my local Banana Republic.
FYSA: My sizes vary in BR clothing, the dress pictured above is a size 12.
Last month we had the pleasure of hosting an in-store event at Banana Republic and it was truly an awesome experience. If you haven't seen their new pants collection, you're missing out on some major happenings. It's hard to choose just one fave but I'm absolutely obsessed with these sloan pants, this print is just ridiculously chic yet unapologetically bold and the fit is everything friends! Banana Republic really gets us. The Sloan pants totally werq for curvy gals, but hey, I digress.
Today is the start of our "5 Days of Banana" #CurvyGalChallenge. This is a fun segment that we started to help our #curvynistas find quality, stylish pieces that they absolutely adore. Banana Republic has so many cute options to choose from so we'll be sharing a few of our #curvygal friendly faves. 
First up for the challenge is this beloved maxi dress
We're showing you how to take our girlfriend "Maxi"  beyond the "casual beach day" vibe of flip flops and floppy hats. Our first order of business is to be BOLD with our color selection!
#1:| Pretty Prints Please!
Bench the basic solid color maxi for a bold fun print.  Being curvy doesn't mean being blah…Spring '17 is all about florals, they've earned a front row spot on retailers shelves and I'm totally here for it.   Look at how gorgeous these colors are together, don't you just love how vibrant this dress is? The poppy hues of purple and blue make this Floral Maxi Dress a sure head-turner, and it's currently on SALE at Banana Republic. Give bold florals a go this season, I bet you'll be squealing with glee when you do.
Pro Tip: Think outside the box and find ways to maximize your wardrobe. For example, this beautiful bold maxi is so much more than a dress, it can also double as a completer piece, try flexing your spring style by wearing it like a duster. Just pair it with distressed denim shorts, a simple white tank, and gladiator sandals like these beauties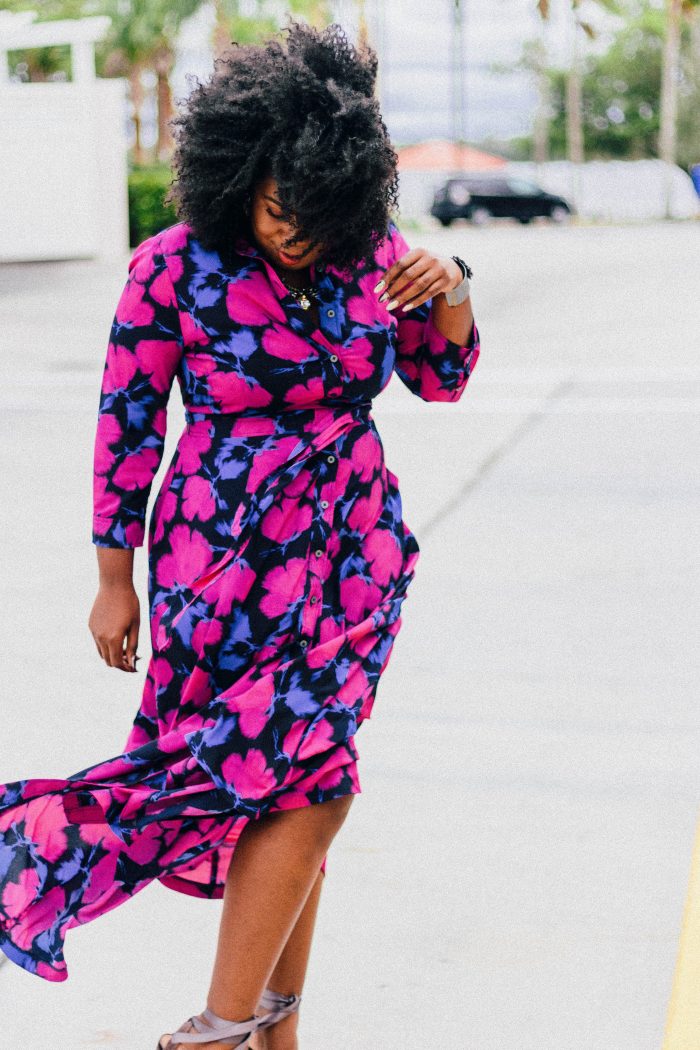 #2.|Button-up Buttercup
The simplest of details make a world of difference when in search of a stylish maxi dress. I have so many maxi dresses in my closet (6 to be exact) but the addition of the buttons and belted waist makes this darling dress extra special for this curvynista. When in search of a stylish maxi dress to compliment your figure, look for details that add interest. It could be a plunging V neckline like this maxi dress (which is also from Banana Republic), or something similar to this earth tone maxi floral dress with side slits that I purchased last season. Whatever the case, have fun with it & please for goodness sake, don't over think it!
**Psst, dresses with pockets score major bonus points with us and this one happens to be packing 😉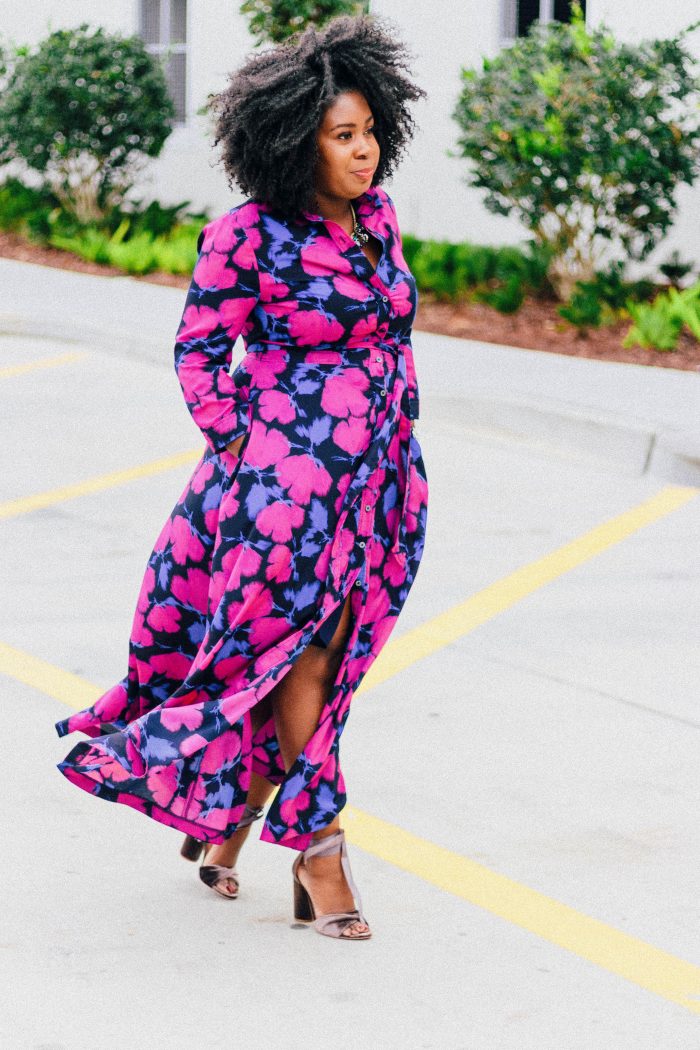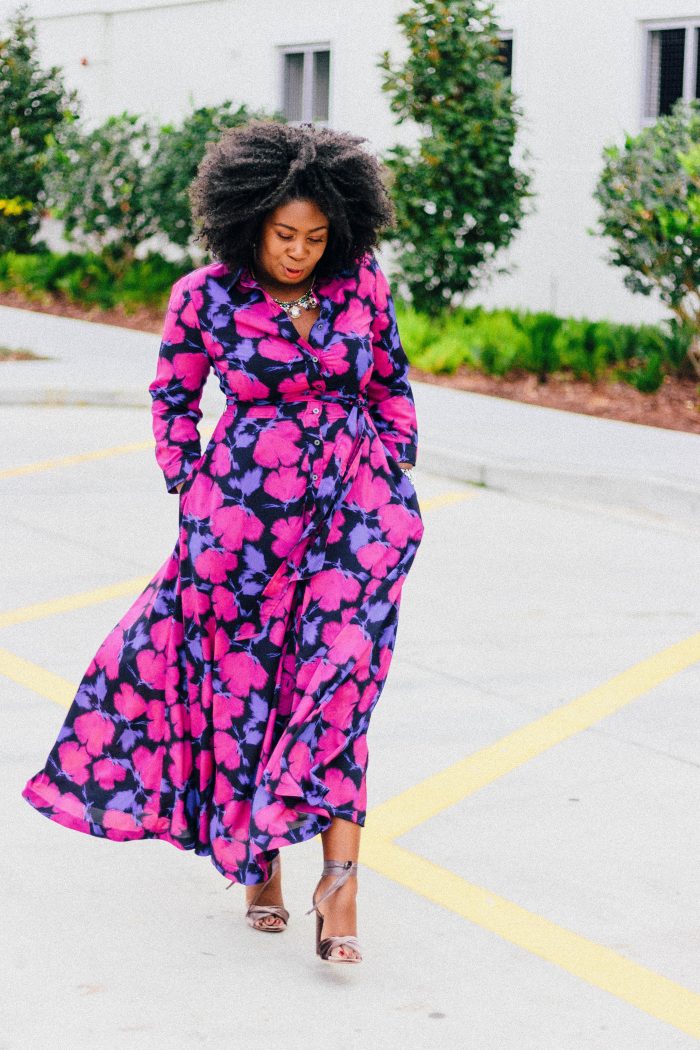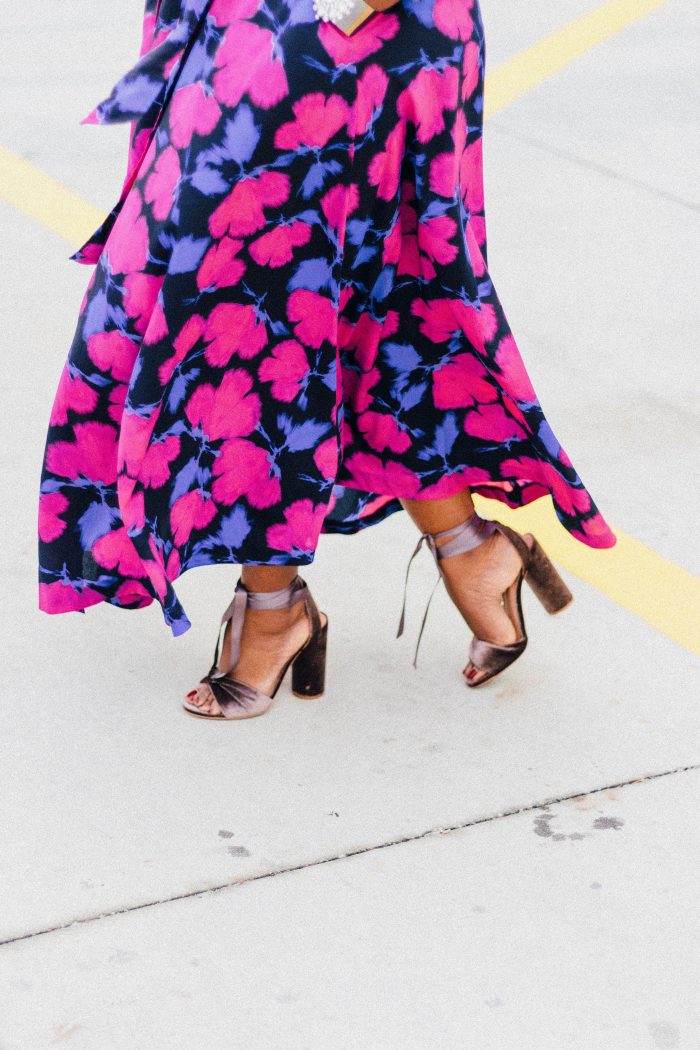 #3.|Excuse me, Did you Say Something?
Accessorize, accessorize, accessorize! Statement pieces are a must have for elevating your wardrobe. We chose this elegant jewel burst necklace with multi-colored stones. It compliments this dress perfectly and guess what…it's currently on sale. Pairing statement pieces with your day-to-day look is an easy way to personalize your outfit and make it your own.
With that in mind, wearing a black sandal with this dress is an easy, classic choice (that works well) BUT being unpredictable is way more exciting depending on your mood. These velvet blush ankle wrap pumps look marvelous with this dress and they make a bold statement because they aren't the typical choice. Think differently and see what happens when you do!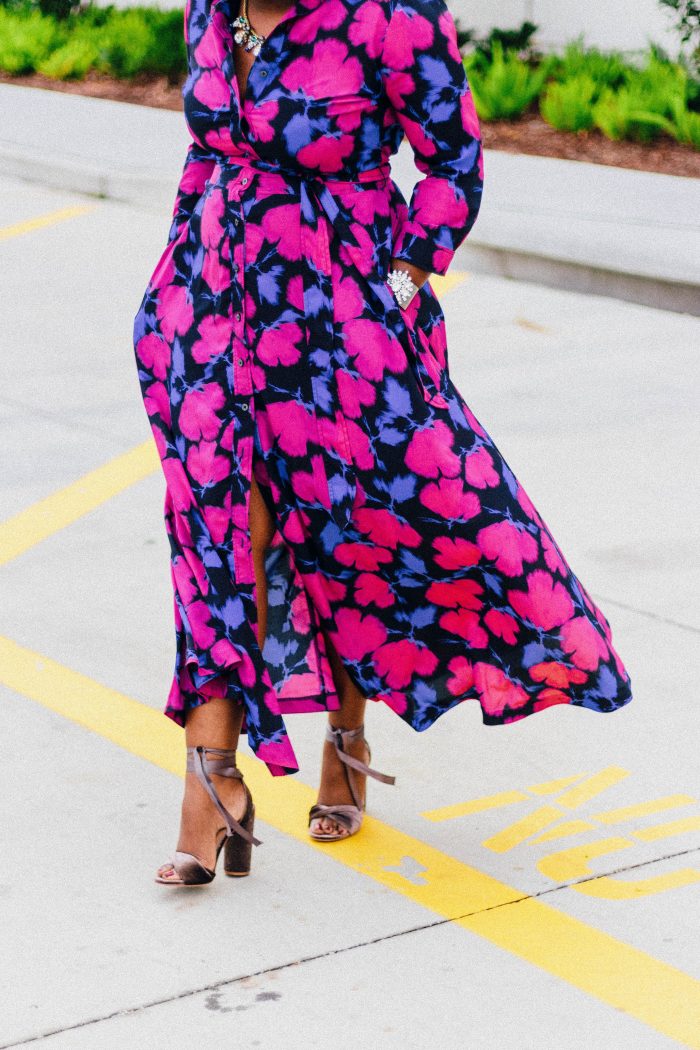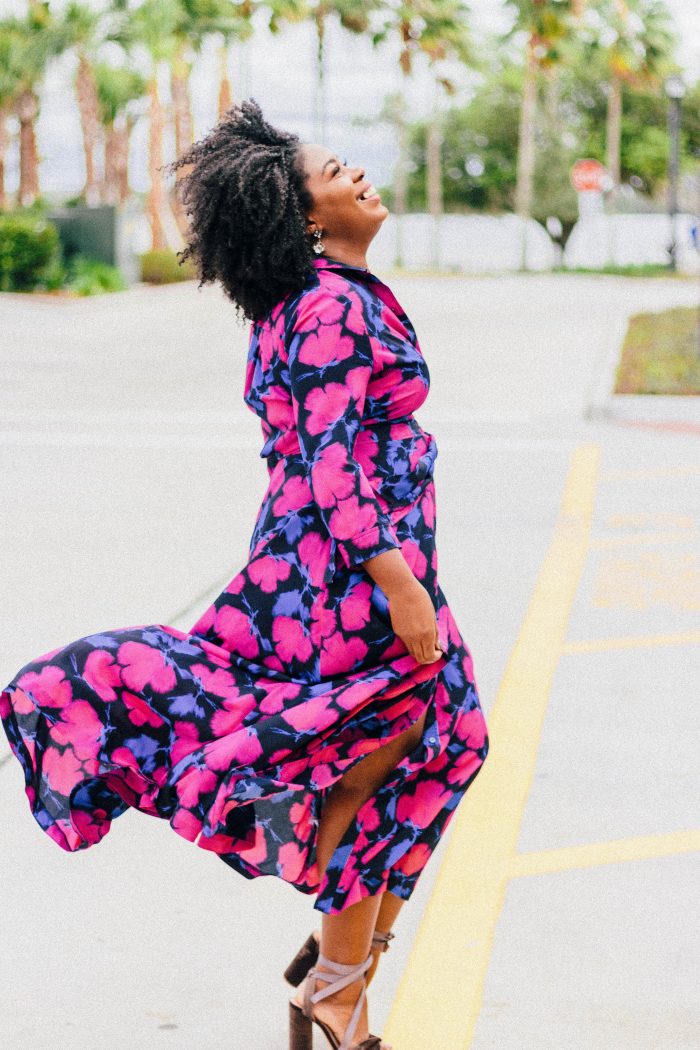 Looking forward to sharing the next looks with you, stay tuned because they are all super fabulous and curvy gal approved!
Do you have any Banana Republic staples in your closet? If so, what are they, I'm always looking for new fab finds. 🙂