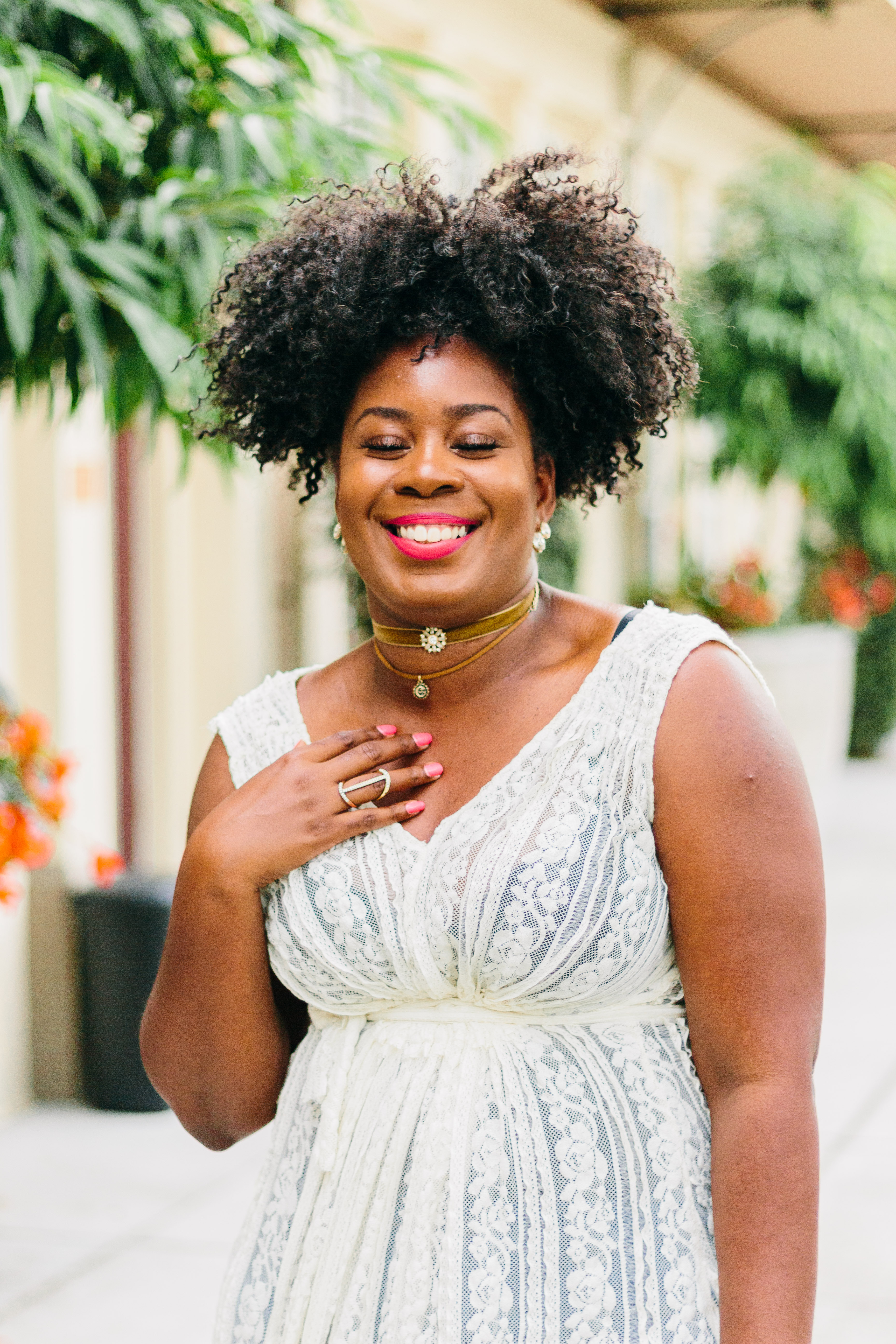 I wish I had invented blue jeans: the most spectacular, the most practical, the most relaxed and nonchalant. They have expression, modesty, sex appeal, simplicity—all I hope for in my clothes. —Yves Saint Laurent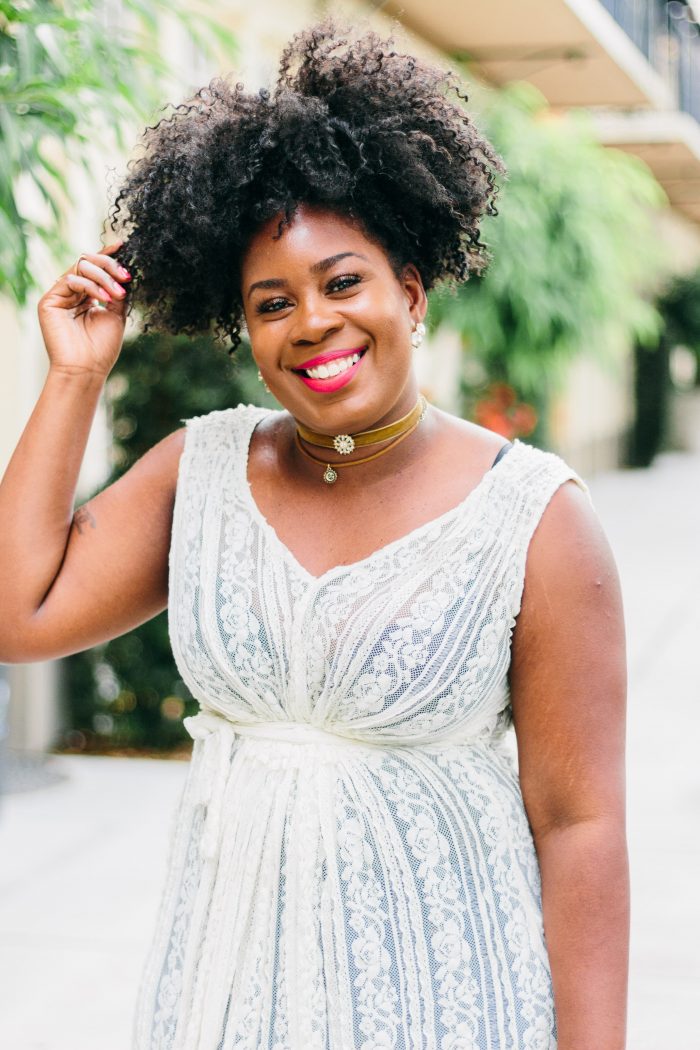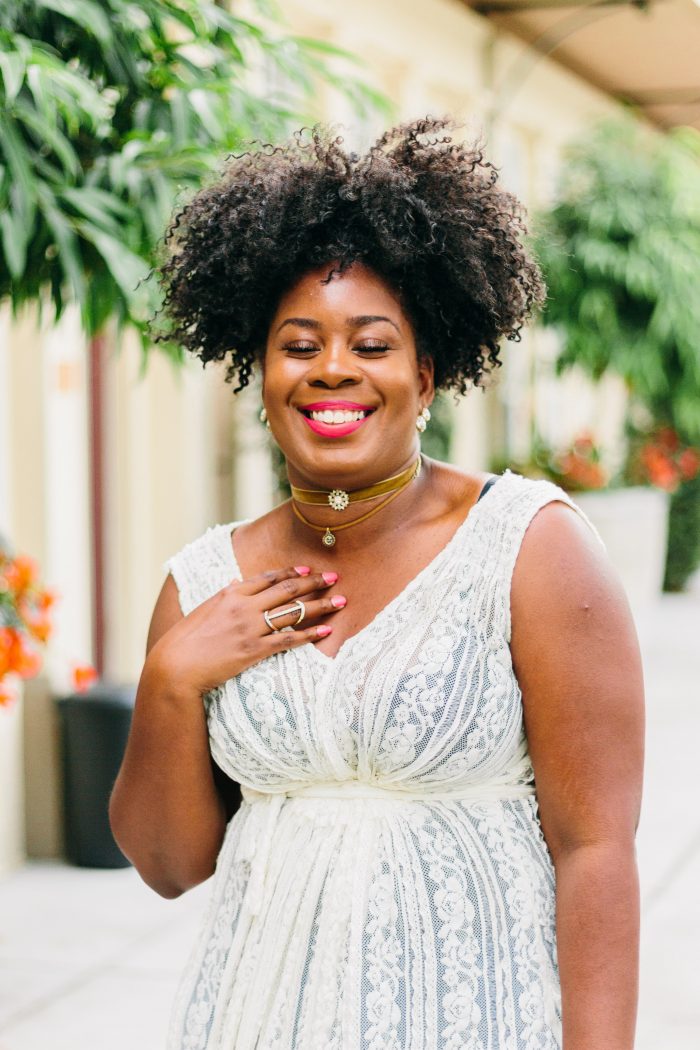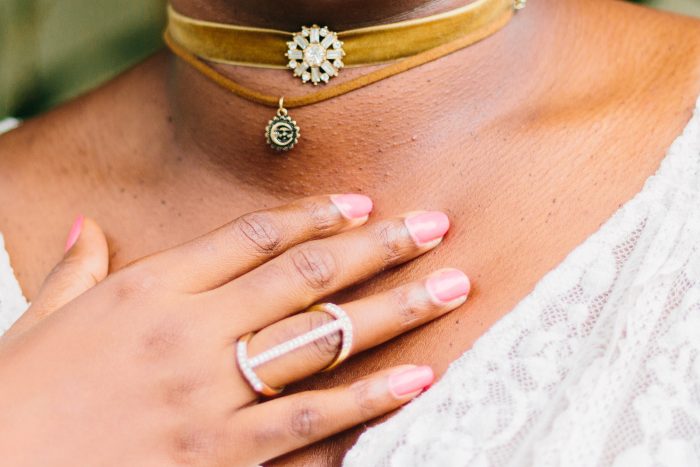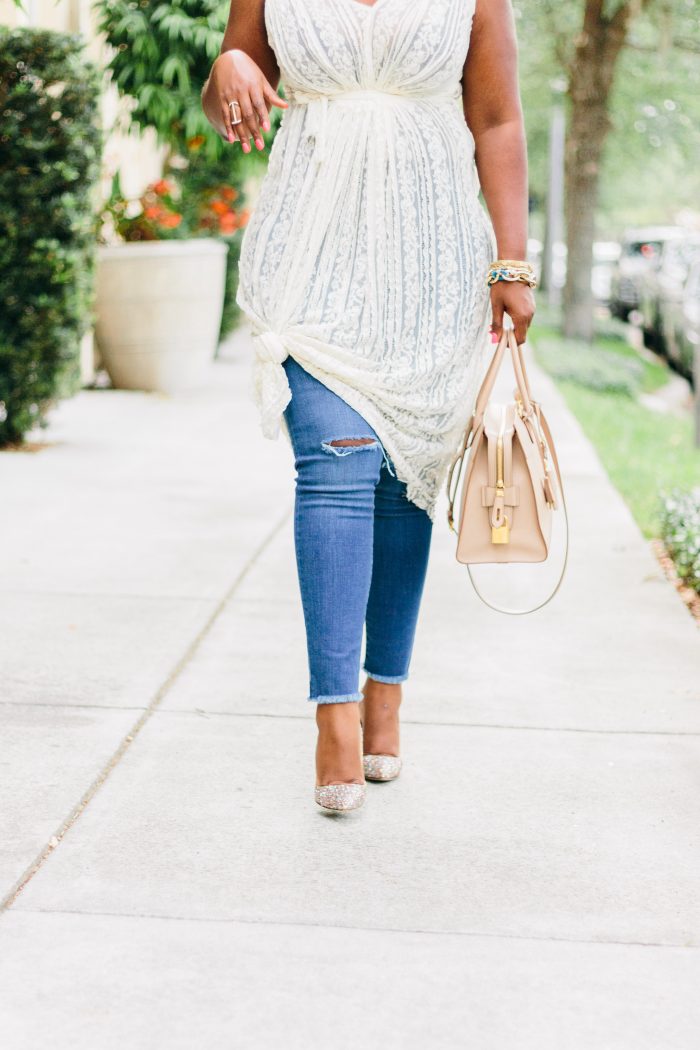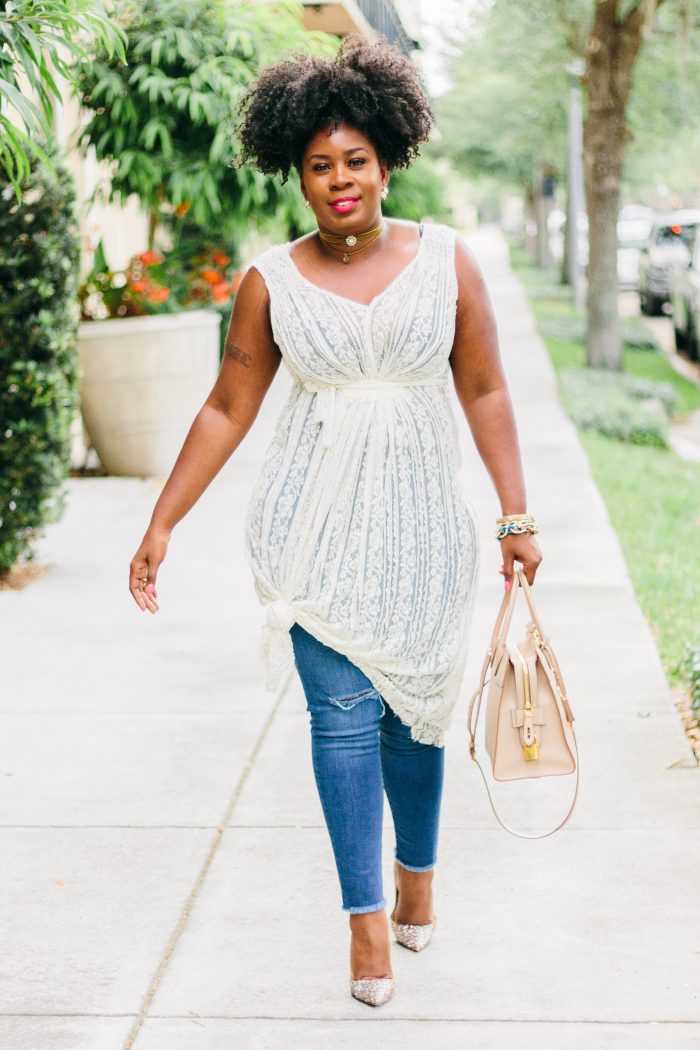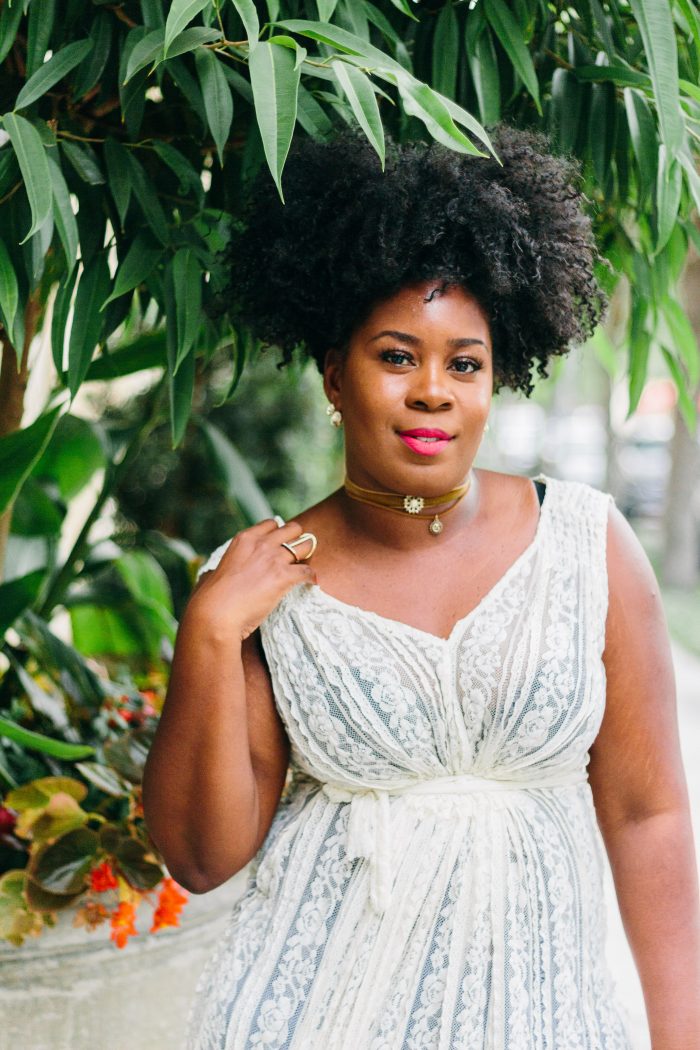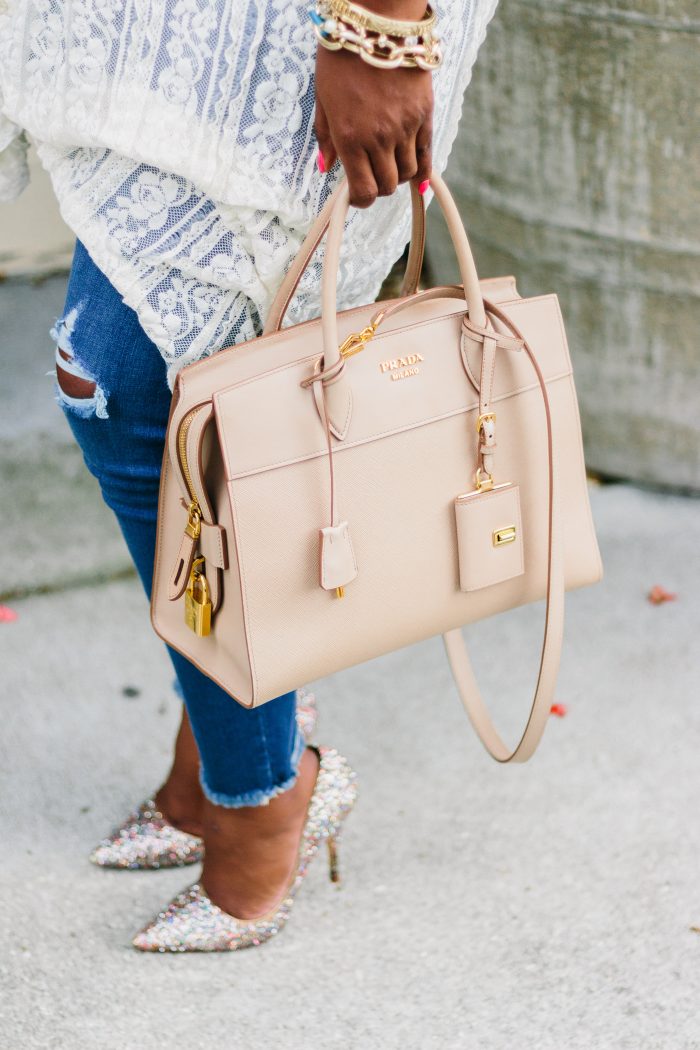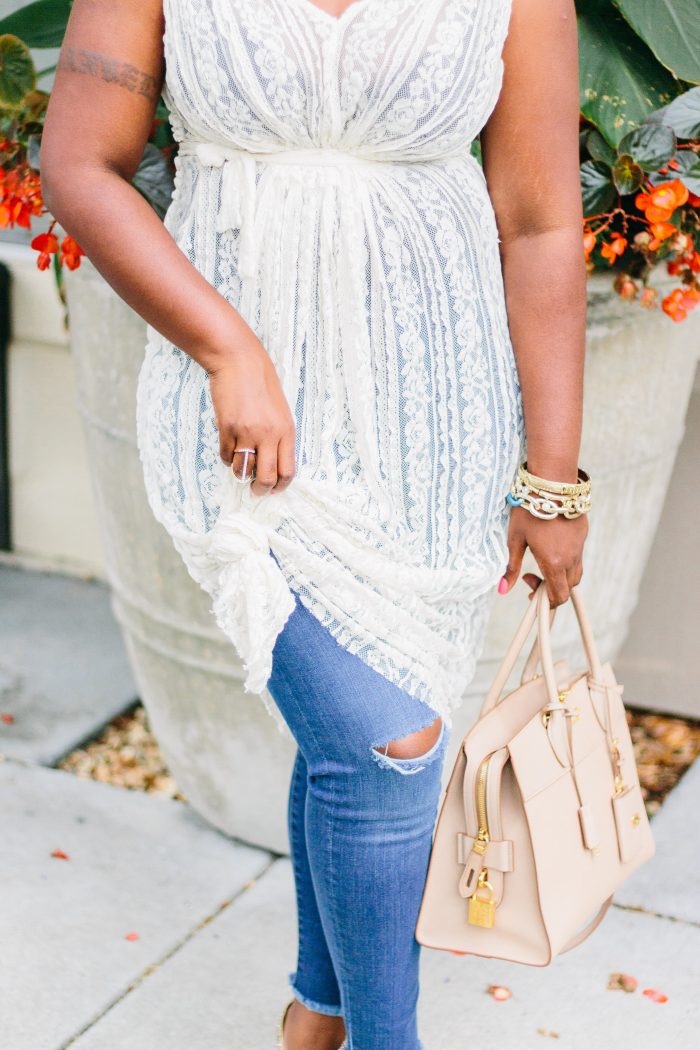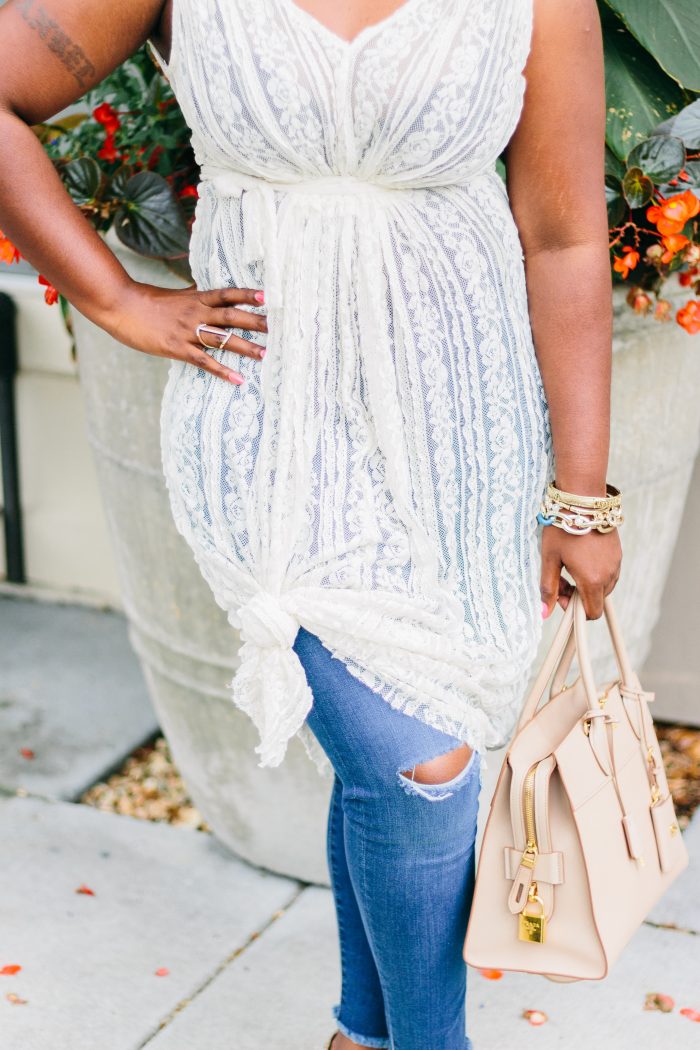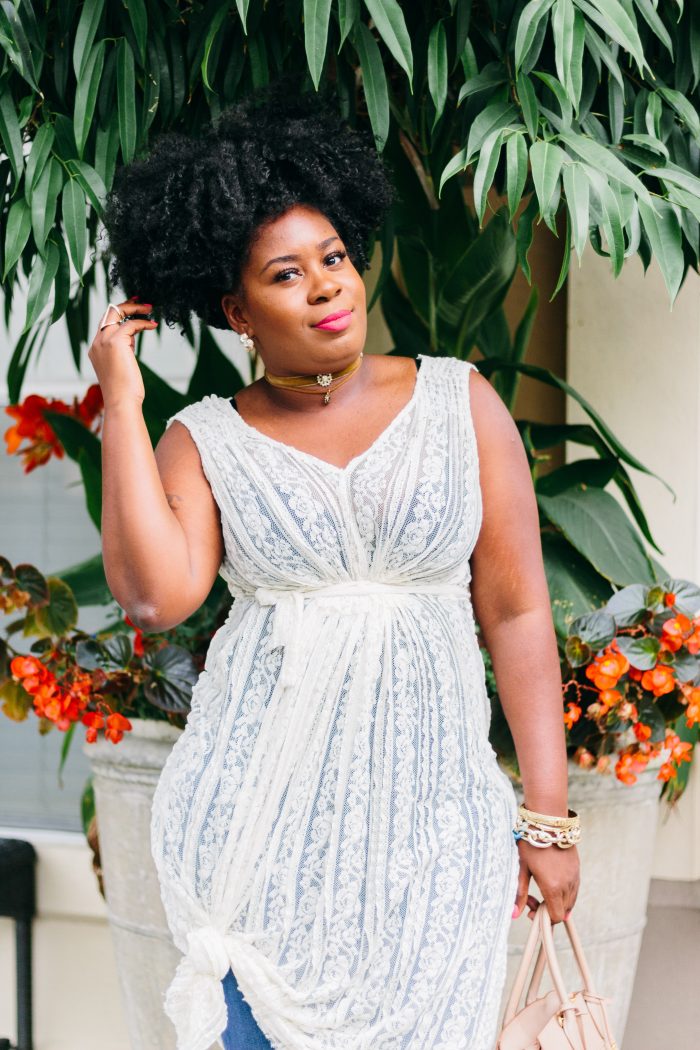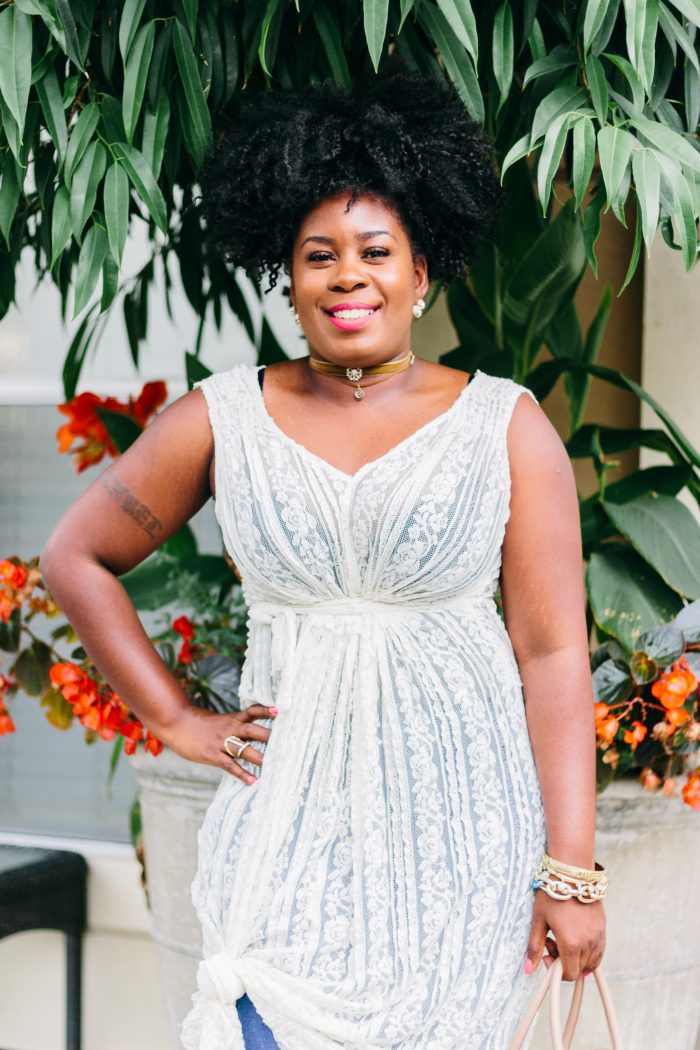 With an introduction like that, I want to jump into a pair of jeans right now, Lol! Yves Saint Laurent is clearly my spirit animal. I appreciate how remarkably eloquent that quote is, it manages to embody with exactness how I feel when I wear a perfectly fitting pair of jeans.  Honestly, I live in denim (or my Pj's) during the weekend. I love jeans, they are literally perfect for just about every occasion. I call them closet chameleons as I can transform a pair of jeans in a heart beat.
Since I was attending a blogger social, I wanted to wear something carefree and fun so jeans were the first thing that came to mind.
I'm obsessed with how amazing Banana Republic's jeans are. As a curvaceous/voluptuous woman, I'm very particular about the jeans I wear. I can't stand to slide in my jeans in the a.m. &  find that they're ill-fitting by the afternoon. I love Banana Republic's jeans because they don't lose shape or stretch all out of wack throughout the day. They literally fit like a glove and they're always distressed to my liking so it's a win-win every time.
I paired my new favorite BR jeans with this dainty lace dress that I scored from Zara a while back. I kept the accessories simple (but never dull, of course). I layered two thin chokers that I've had for quite a while. I got one from zara (it came in a set of 5) and I got the other from Forever21. The Blogger in me couldn't resist wearing my sparkliest pumps, so I opted to wear my favorite Kate Spade, glitter "licorice too" pumps.  My shoe motto was "Go glam or go home" so I decided that extra sparkly was most suitable. Especially since I wanted to spice up my denim for the occasion.
I hope you loved this look as much as I do. I can't get enough of how adorable this lace dress looks paired with these jeans. Do expect to see this combo often this summer, lol!
---
LifeSTYLE Notes:
Super FAB Brunch Decor (on a budget, of course)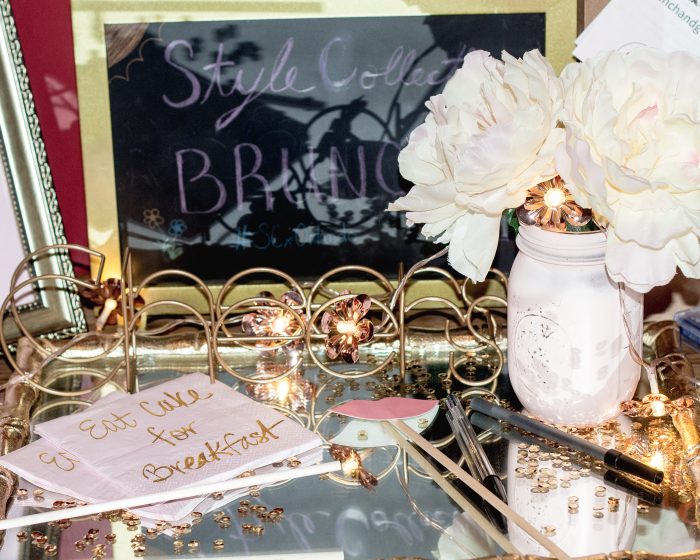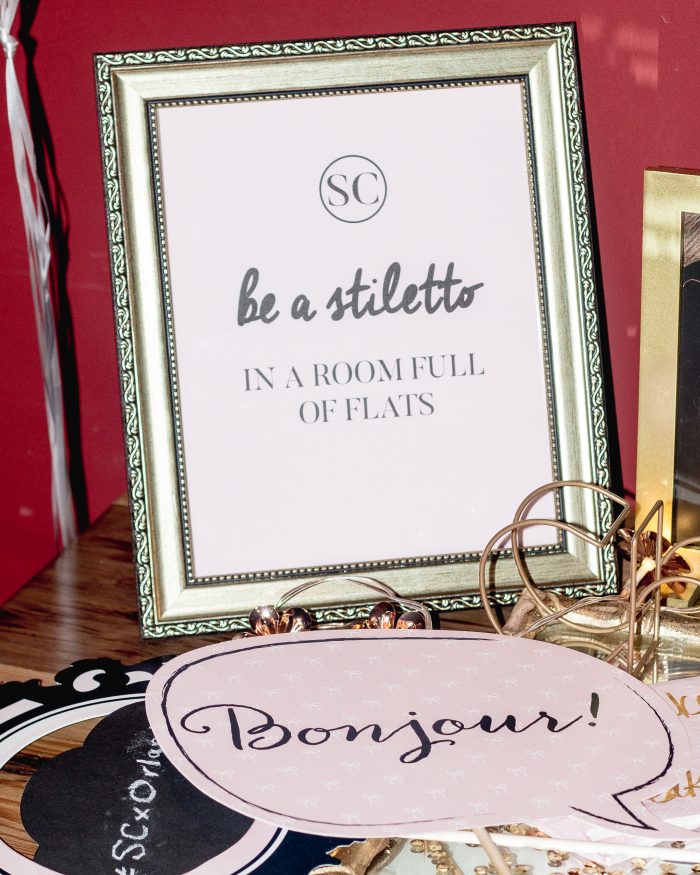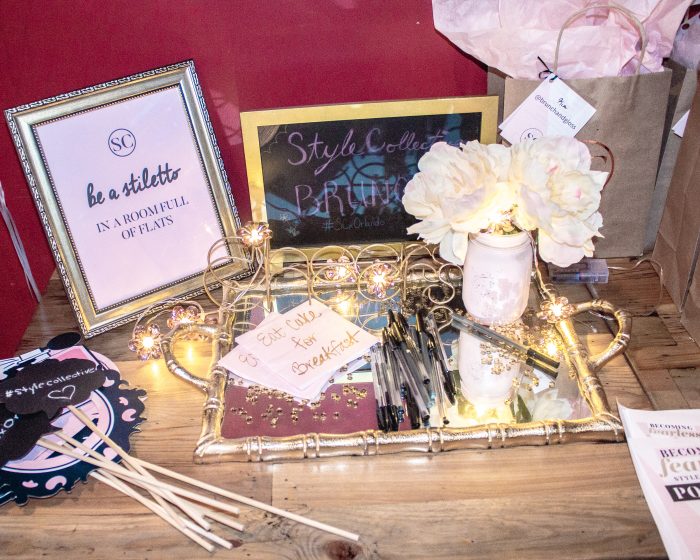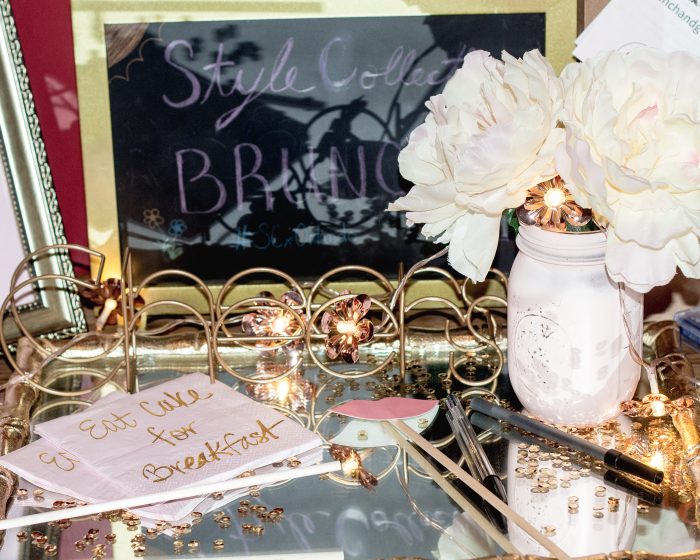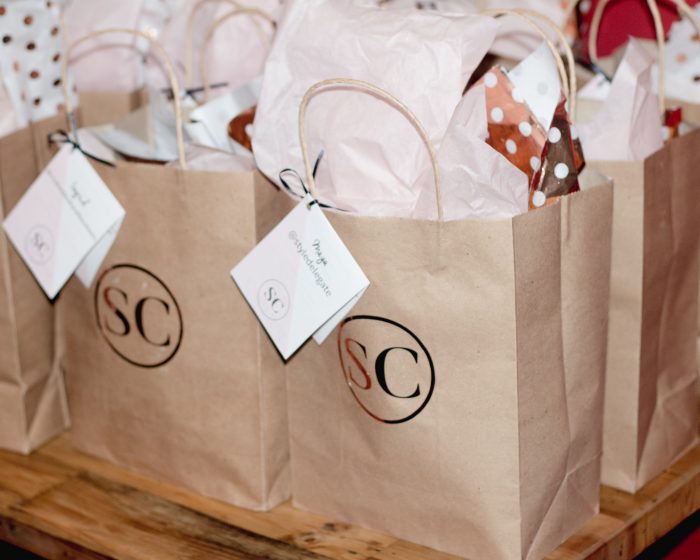 Weekend's around here are always super fabulous, except for when I'm folding laundry and scrubbing toilets. #AdultingAin'tEasy- Lol!
Last weekend I attended our first regional Style Collective Brunch at the Stubborn Mule, which is a New American style restaurant located in the Thornton Park district of Orlando. Read more about their amazing food here. The Style Collective Podcast Launch Party was hosted by the Orlando Regional Directors, Nikki Arnold of "The Fashionable Accountant" + Kimberly Samantha of "Brunch and Gloss".
The purpose of the gathering was to celebrate the launch of "Becoming Fearless" which is a newly released podcast that's hosted by Annie Spano, Founder + CEO of Style Collective.  Style Collective is a sisterhood of bloggers that span all across the world. Hecka dope, right? I know, Annie's legit awesome.
When my Blogger Boo Nikki told me that she volunteered to become one of the regional directors, I was super happy and eager to support her along her journey. Since I love decorating and all things fashionable and fun, I jumped in to support my SC sisters by volunteering to help with decorating for SC events . Yay, did someone say confetti?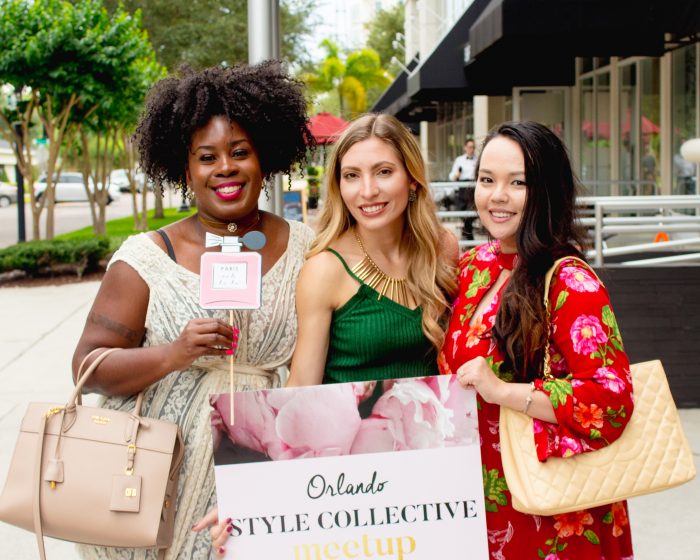 Decorating for a brunch on a budget is super simple as long as you don't over think it.
Here are a few Tips to get you started.
MATCHY-MATCHY, YES?
The rule of thumb is typically no more than 3 colors. Find three colors that compliment each other and stick to it. When choosing your colors, think about how you want your audience to feel when they walk into the room. Also, if you choose to use different patterns thats fine. However, do ensure that the patterns you choose to use are within your color scheme. Don't get all crazy with it. In design, less is more. Simplicity is the key to elegance, so don't over do it!
FLOWER POWER
 Florals are an automatic game changer. They make the atmosphere feel so inviting. Every woman should have a signature flower, one that people associate with her. Consider incorporating your signature flower into the brunch decor. We opted to use peonies, they were perfect as Nikki uses them a lot in her flatlays and such. Kim DIYed mason jars, she spray painted them pink and gold and we used the mason jars to make floral centerpieces for the tables.  If you don't want to spend a grip on florals, it's A-Okay to use faux flowers (that's what we did), just make sure they're of good quality.
SPARKLE + SHINE, DARLINGS
Whenever I have an event, I like to check the Target dollar section for cutesy stuff that adds personal flair to the decor without breaking the budget. I always seem to find the perfect string lights in that section, especially during the holidays and they're never more than $5 bucks. For the SC blogger meet up we found some really cute rose gold string lights that were perfect for illuminating the gift table and adding that extra sparkle that we ladies tend to love. Placing the lights on a mirrored tray with confetti and little trinkets looks so glam.
Though I enjoyed the food, bottomless Mimosa's, and helping Kim and Nikki with the decor, what I loved most was having the opportunity to bond and get to know my lovely Style Collective Sisters. Everyone was different yet we have so much in common. We talked about our childhood goals, our blogging journeys and our personal experiences. We discussed areas that we'd like to grow and improve in as well as how we plan on pursing our paths to #becomingfearless along our blogging journeys. I look forward to seeing everyone again soon. We have another event coming up in July and I can't wait to share the deets about that as well.
DOMO ARIGATO
Sending a HUGE THANK YOU to all of the sponsors for this event. Our goodie bags were lovely. Thanks to Origins for the facial and sample products, shouts to Mikaela J.. for the cute stemless wine glass, it's my absolute fave. Thank you to Laila for the Just fab stuff, you rock, and Sky Candy, well… your candy tastes heavenly, thank you much. I have plans of using my bath bomb and soap from Magpie Naturals tonight, it smells so good.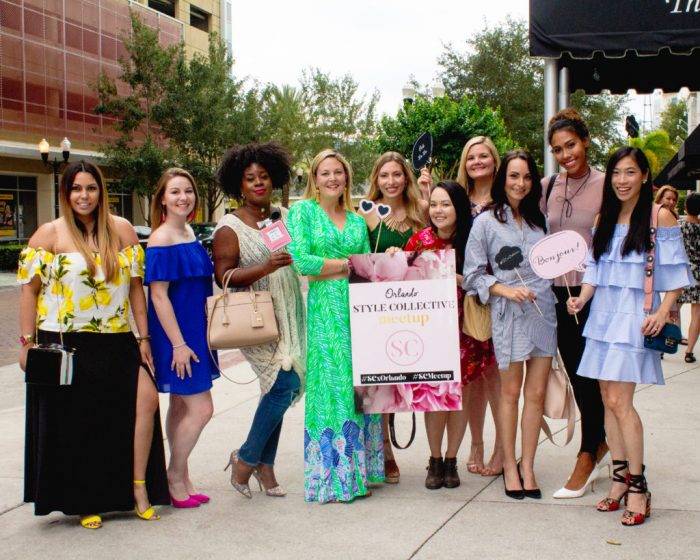 I've partnered with my Style Collective Sisters to bring you this series. Do check out their Blogs as they share their fab insights about the event.
STYLE COLLECTIVE SERIES:
Thursday's post by Hailey: Style Collective: My First Blogger Meetup
Friday's post by Kimberly: Style Collective: Bonding Over Blogging
Saturday's post by Nikki: Style Collective: Planning a Girls Brunch on a Budget
Monday's post by Emily: Style Collective: Brunching in Style – What to Wear
Behind every successful woman, is a tribe of other successful women, who have her back!